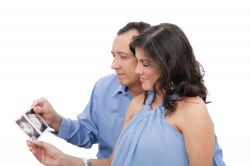 From the moment I found out that I was expecting with each one of my children, I couldn't wait until I was able to have ultrasound done during the later half of the second trimester so that I could find out the gender of my baby.  In fact, I have figured out how some couples or moms can make it through their entire pregnancy not knowing the sex on the baby.  I know that I would have a hard time waiting until I delivered to find out the sex of my baby.  Even though I found out the sex of my baby, I was happy with the outcome each time and I couldn't wait to meet my baby.  I know that finding out the sex of the baby can be very disappointing for some couples or moms because they had their heart set on having a specific gender.
Disclosure:  The opinions reflected in this post are my own and my differ from your own.
The Old Wives Tale Gender Prediction
Many moms try to use some of the popular old wive tale gender prediction tests to try and determine the sex of the baby.  I know that I personally tried a few of the old wives tale tricks but most of the time they where wrong.  It is fun trying to figure out the sex of your baby; in fact, the wives tale tests are only 50% correct.  Some of the popular wives tale gender predictions are:  string and needle trick, Chinese prediction calendar, Ring test, heart beat of the baby, by the way that you are carrying your baby, cravings that you are having, Drano test, and many other fun ways to try to determine the sex of your baby.
Comments
comments