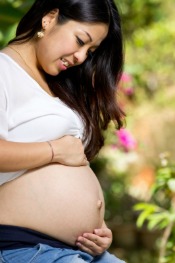 Gestational diabetes is a form of diabetes that affects pregnant women typically during the third trimester.  Most women who are diagnosed with gestational diabetes have never experienced or are predisposed to having symptoms of diabetes.  In fact, all of a sudden pregnant women may have an excessive amount of glucose in their bloodstream.  Especially, after ingesting high amounts of sugar or simple carbohydrates.  It appears that the insulin receptors start malfunctioning or stop functioning properly which causes a high amount of glucose to be found in the bloodstream.  Untreated gestational diabetes can be harmful to you and your unborn baby.  It is important to follow your doctors orders and do your best to manage the amount of sugar or simple carbohydrates that you ingest.
Disclosure:  This post is for informational purpose only and if you have any further questions about gestational diabetes you should contact your OB/GYN as soon as possible to discuss your questions or concerns.
How Does Your Doctor Determine If You Are At Risk or Have Gestational Diabetes?
Most doctors will perform a simple blood test that measures the amount of glucose in your blood stream after you drink a sugary drink, that is only available from your doctors office or by prescription.  Typically, most doctors perform the glucose tolerance test between 24 and 28 weeks gestation.  Your doctor will have you drink a strong sugary drink that contains 50 grams of glucose. The drink will taste similar to flat soda depending on the flavor that your doctor has available.  Most doctors will perform the test after you have fasted overnight or for 8 hours. After they give you the drink, you have to drink all of it within 5 minutes.   Once you have finished the drink, the lab will draw your blood after one hour to check your glucose levels.  Try to avoid throwing up the drink so that you don't have to come back on another day to repeat the test.
Comments
comments