Can you believe that Snoopy has been on television for 50 years? I remember watching the Charlie Brown Christmas special when I was growing up. It has been several years since I have watched Charlie Brown Christmas and hope to catch it on Tuesday, December 16 at 8:00PM EST/PST on ABC.  
Today, I wanted to share with you some cute holiday gift ideas for the Snoopy Enthusiast. There is a wide variety of products to outfit the entire family in Snoopy gear. From clever men's and women's tees to comfy P.J.s for the kids, we've got a wide selection of merchandise to choose from in every style and size. You can find these great gifts at Kohls, Old Navy, and Target.
DOIN'G THE SNOOPY DANCE!: INFANTS/TODDLERS
Sweater: Snoopy dances with joy in the snowflakes in this charming red and white sweater from Target. Available in sizes 12 months to 5T for $15.01.
SNOOPY GETS THE PLUSH TREATMENT: TODDLERS
Toy + Slipper Socks: Keep your little one entertained and warm at the same time with these cute slipper socks featuring their very own Snoopy plush! Available at Target in sizes small – x-large for $9.99.
My son saw these and fell in love instantly. He loves wearing them around the house and too bed at night. Silly boy was trying to show off his slippers and he lifted his feet as I took the photo.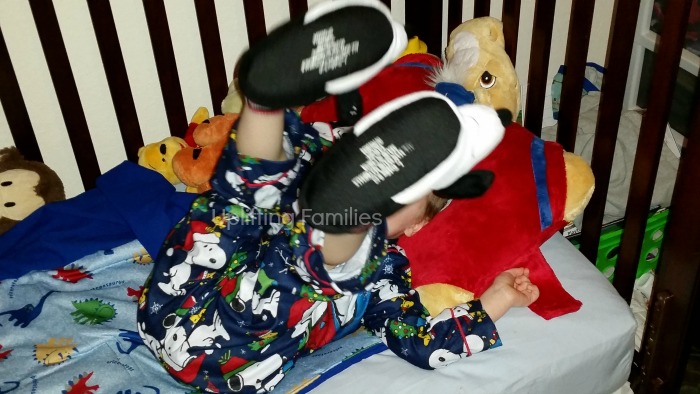 TEE TIME: GIRLS
Graphic Tops: Triple the fun with these three holiday tees from Kohl's and Old Navy!
Choose from two glitter-accentuated styles at Kohl's: one with all the key characters surrounding a classic X-mas tree and another with Snoopy and the word "Believe" above his head. Both retail for $20 and come in sizes 4-6x.
Or select this whimsical version from Old Navy, highlighting Snoopy and Woodstock wrapped in colorful Christmas lights. Retail price is $12; sizes 4-6x.
SNUGGLE UP WITH SNOOPY: GIRLS AND BOYS
PJs: Happiness is a pair of Snoopy pajamas from Target! Check out these adorable matching pajama sets in blue for boys and pink for girls. Both feature Snoopy on a large front panel with smaller versions of the beloved beagle swirling in a repeat pattern on the tops and bottoms. Both come in sizes x-small – large and retail for $16.99.
My youngest son loves his new pjs. He was excited when I received it. He wanted me to take pictures of him showing off his new PJS.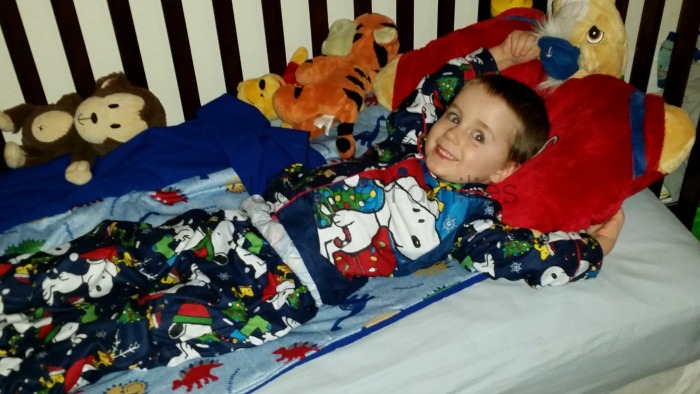 CHRISTMASTIME IS HERE: MEN
PJs: A Charlie Brown Christmas comes to life in the form of men's pajamas in this matching t-shirt and bottoms from Target. The set features the classic Charlie Brown-and-Snoopy-with pathetic-Christmas-tree scene in sizes ranging from medium to xx-large. Retail price is $24.99-26.99.
Graphic Tees: Men can channel their inner Snoopy in two hilarious message tees from Kohl's. On the left, Santa Snoopy proclaims that "Chicks Dig the Beard" on a bright red t-shirt.
Or you can choose Snoopy and his sidekick, Woodstock, are just "Chillin" during a walk in the falling snow. Available in sizes small –xx-large for $7.99 or get two for $14.00. This is the shirt that I ordered for my oldest son. He hasn't had a chance to wear it yet.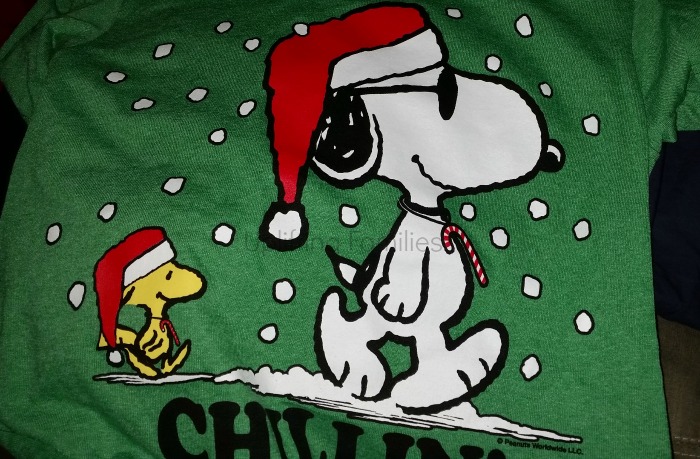 FUN FOR FASHIONSITAS: WOMEN
Graphic Tee: Give yourself the gift of Peanuts with this classy t-shirt from Old Navy, featuring Snoopy with a bright red Christmas present. Available in sizes x-small – xx-large for $14.00. (sold out) I got this shirt for my daughter and she thought it was super cute. She wore it to school today and had several comments like "cute shirt" or "where did you get your shirt."
Sweatshirt: It's a wrap! You'll be the life of the party in this "ugly Christmas sweatshirt," spotlighting Snoopy and Woodstock all tangled up in colorful Christmas lights. Available in sizes x-small – x-large for $14.99.
I loved the gifts from Snoopy and so did my kids.
Comments
comments