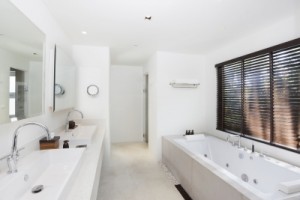 Is your bathroom a disaster?  Does your bathroom need deep cleaning?  I know mine is usually cluttered with beauty products and personal items on the bathroom counter.  The bathrooms in our house are lacking in storage so our personal care items usually end up sitting on top of the bathroom counters.  I wish I could come up with a better way to organize the clutter (sounds like a Pinterest project in the future).  Hopefully, your home has more storage in the bathroom than I do.
If you don't have much time on your hands then a good home cleaning service is a great help.
Conquer Tough Water Stains
The bathroom shouldn't take a long time to clean unless you battle hard water stains, which can be a hassle to clean.  If you have hard water, start with the shower and/or bathtub first.  Spray the cleaner onto the shower walls and door so that it can sit on the hard water and go to work.  According to some wonderful Pinterest users, a mixture of Blue Dawn Soap and Vinegar is a great natural cleaner for hard water problems.  Warning: it does stink so make sure that you turn on the fans in your bathroom.
Before you begin cleaning, make sure that you have plenty of rags and paper towels.  You want to make sure that you don't ever mix chemicals.  Mixing chemicals is not only dangerous but it can cause you to get sick.
Comments
comments