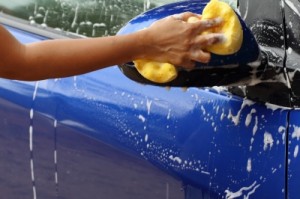 Does your car need some tender loving care?  Have your kids helped trashed your car?  If you have kids, you probably are already aware of how much stuff tends to accumulate in the car and if you are a new parent, here is what you can look forward to in the future.  I know that if I went out to the car right now, I would find all sorts of my toddler's things scattered throughout the car including those old crusty fruit loops that find their way under the car seat, his toys, and spare clothes.  Don't be surprised what you find under your child's car seat.
Clean out your car by using these great tips.
Declutter – The first thing that I do when I am cleaning out the car is to pick up and toss all the trash into a small trash bag.  Then I gather up any items that need to go inside the house and place them in a pile.  Don't forget to check the consoles for hidden trash, edges of the seats, those pockets behind the front seats, and the doors.  Kids seem to stuff things in random places sometimes so you have to think like a child to find their hidden items
Vacuum – If you plan on doing this at home, make sure that your vacuum cleaner has hand held attachments.  Make sure that you clean in all of the nooks and crannies such as the edges of the seats, underneath the seats, and under the car seat if you have one.  Take out the floor mats and shake them out as much as possible outside.  You can also place them on the garage floor or driveway and use the vacuum cleaner to pull the dirt from the mat.
Wipe Down – When I deep clean the car, I always wipe down anything that is plastic or vinyl using the Armour All Wipes.  These are great for removing dust and they help keep your vinyl moisturized.
Comments
comments