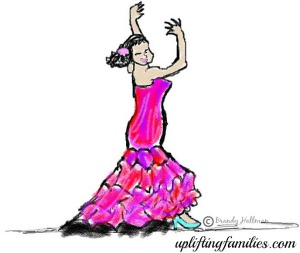 Donna, from Blendermom.me, wanted to share her some lasting and sweet memories about her grandmother.  I know that my grandmother made an impact in my own life and she even took me to church with her.  I still remember her favorite song too and am blessed that I got to spend time with  my grandmother so that she could instill love and create memories for me to remember for the rest of my life.  Losing a loved one is never easy, especially, someone that was near and dear to your heart.  I hope that you enjoy Donna's story.  As you read her story, think of ways that you can make a difference in the lives of others and how you want to leave a legacy for other's to remember you by.
My grandma, whom we affectionately called "Granny" had Alzheimer's and with that it seemed as if we lost her a little piece at a time.  However, just before Thanksgiving, she passed away.  She had not known who I was for quite a while when I would visit her at the nursing home.  During these sad days after she died, I have thought of all the wonderful memories I've had of Granny.  One of the many memories that stands out in my mind is that I would sit next to her and she would play and sing to me the song "Sweet Hour of Prayer" by William Walford.  Those words are so dear to my heart as I now sit and play and sing.
I love the beautiful words of the song as it talks about the absolute sweetness of a quiet prayer time with our Heavenly Father.  In this time of sorrow for me the line from the song keeps echoing in my mind:  "In seasons of distress and grief, my soul has often found relief….."  God has used those words that she taught me to calm and comfort my spirit over and over again.
"Sweet hour of prayer! Sweet hour of prayer!
Thy wings shall my petition bear
To Him whose truth and faithfulness
Engage the waiting soul to bless.
And since He bids me seek His face,
Believe His Word and trust His grace,
I'll cast on Him my every care,
And wait for thee, sweet hour of prayer!"
Comments
comments