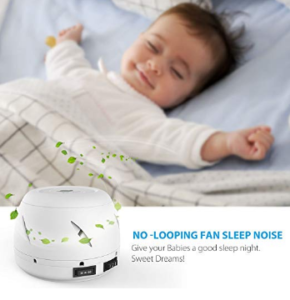 Having trouble sleep? A white noise machine with real fan will help
Getting enough sleep in today's busy and noisy world is a top challenge for most people. A noise machine is an effective way to balance out all those sounds and help you get the blissful sleep you deserve.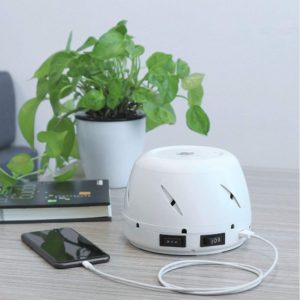 First and foremost, this fan noise machine is by far the most customizable white noise machine on the market. While most simply loop repetitive audio tracks, the AuCuTee Fan Noise Machine uses a dual-speed asymmetrical fan to actually create soothing noise. The resulting sound is one of rushing air that's soft and pleasant to listen to. It sounds like a cross between a fan and the comforting, shushing,noise parents make.It's a simple, no-frills sound, but it's great for masking outside noises that keep you up at night. The greatest feature of this fan sound machine is its constant sound that doesn't change, loop or break. If you know you prefer fan sounds, you'll probably enjoy the authentic and soothing sound this white noise machine produces.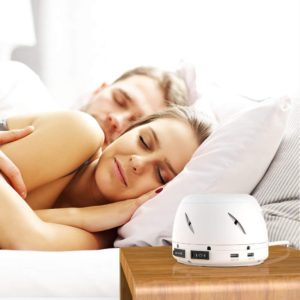 Better yet, this noise machine with fan built-in has two speeds (slow and high) of rushing air and doesn't require a battery. The adjustable case can be twisted to adjust the tone. It's great that you can fine-tune the exact sound that comes out. The movable panels don't move a huge amount, but with the tiniest adjustment, you can change the sound considerably. What the best is that there is just one button, with three settings: off, and two different speeds.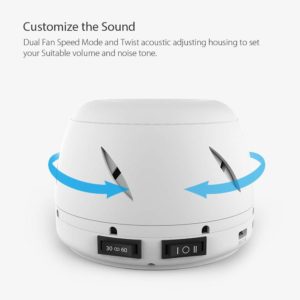 The adjustable center portion of the device also utilizes a series of slanted vents, which can be shifted to allow more or less air to move through them. This increase or decrease in airflow allows you to choose from an arrange of volumes and tones.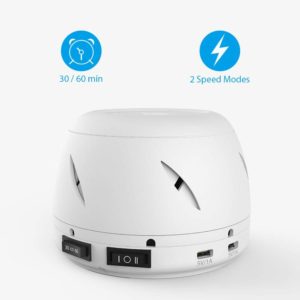 A simple button gives auto-off timer for 30minutes, 60 minutes or infinite. Thus, this sound machine allows you to keep it on all night or set the optional timer. All these setting can be done by pressing a simple button on this machine.
AuCuTee Fan sound sleep aid has solid build from quality materials. Where most sound noise machine have a flimsy plastic feel to them, the AuCuTee Fan machine has a robust design.The "pearl white" color makes it have an elegant appearance. Also, the "piano painting" skill on the whole cover gives this sound machine a warm looking. All these aspects on AuCuTee Fan Machine reminds you peace and relaxation ion at a glance looking.
You can get one from Amazon