Did you know that fleas and ticks start making their appearance when temperatures reach 70 degrees? If you aren't prepared, you could find your home and yard over run with fleas in a few weeks. Fleas can lay up to 50 eggs a day and if you have more than one animal, this number will increase. These eggs typically don't stay on your animal for very long once the female has laid her eggs on your pet. As your dog moves around, the eggs fall off onto their bedding, carpet, furniture, yard, and anywhere else that your pet goes.
Fleas are not only annoying for your furry friends but they cause discomfort and irritation to you and your family too. If you didn't read my first article, I highly suggest that you check it out too. I shared some tips on how I keep my fur babies flea free year round. I typically treat my dogs year round because even in the middle of the winter in Texas we can see warm temperatures, plus my dogs live inside the house where fleas have the opportunity to continue reproducing year round.

I remember about 10 years ago that I had a horrible flea infestation in my home. I thought that I was going to have to call an exterminator out to my house to get rid of the fleas. The fleas were so bad that you could see them jumping on your feet especially if you had white socks on. It was crazy. As you can see in the photo, fleas are very small but they are visible to the naked eye. However, flea eggs are harder to spot unless you place your animal on something dark. Flea eggs are tiny small white dots, which are easily seen on a dark piece of fabric. As I mentioned in my previous post, you are more likely to see flea dirt or fleas on your animal.
Surprisingly, I was able to tame the flea outbreak myself without having to spend a ton of money. Today, I wanted to share those tips with you so that you don't have to spend a ton of money getting rid of fleas inside your home and in your yard.
Using Adams Flea Drops to Protect My Animals for 30 Days
Bathing is a great way to kill any live fleas on your pets; however, bathing won't get rid of the fleas, larvae, or eggs that have settled into your carpet, pet bedding, yard, etc. After bathing your pets, you should use the Adams™ for Dogs Flea & Tick Spot On® with Free Smart Shield® applicator (when purchased at Walmart). The applicator made it very easy for me to put the flea drops on my three dogs. The drops are designed to give your animals 30 days of protection and will help break the flea cycle.
Vacuum Often
As I mentioned earlier, when I had horrible flea infestation in my home, I remember that I had to vacuum my house on a daily basis. Vacuuming will pick up any flea eggs that have been dropped onto the floor. Make sure that you vacuum thoroughly. If you have a bag-less or a bagged vacuum cleaner, you should empty it immediately and place the contents inside of a trash bag. Then tie up the trash bag and dispose of it in the dumpster or place it in an outdoor location. If you have a steam cleaner, I found that this actually helped pull live fleas out of the carpet. Plus, your carpets will be clean too!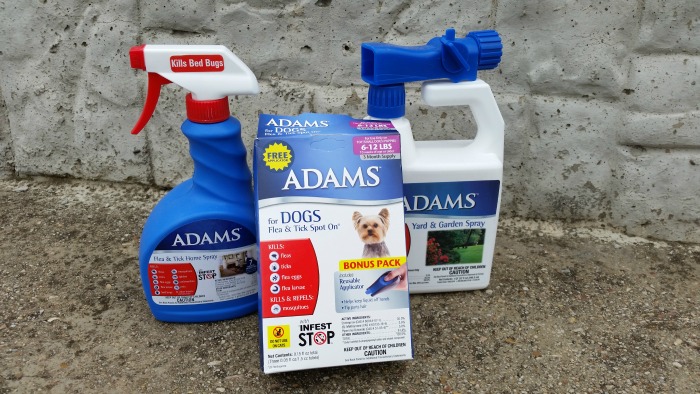 Treat Your House for Fleas
Designate a day that you can get your pets out of the house for a few hours so that you can treat your house for fleas. When I had horrible fleas, I used a powder in my carpets but now that I am older I don't recommend this if you have children who enjoy playing on the floor or crawling. Just like any pesticide, you want to protect your children from accidentally ingesting it. Even though I vacuumed up the powder after several hours, there is always residue left. If you decide to use bug bombs, sprays, or powdered pesticides on your carpet it is extremely important to make sure that you prevent your children from playing or spending a ton of time on the floor.
If you do have children in your home that spend time on the floor, you can use Adams™ Home Spray to spot treat the areas that your pet enjoys the most. This way you can try to eliminate as many flea eggs from hatching. Then make sure that you use a topical flea killer such as Adams™ for Dogs Flea & Tick Spot On® on your animals so that you prevent new fleas from hatching.
Don't Forget to Treat Your Yard Too!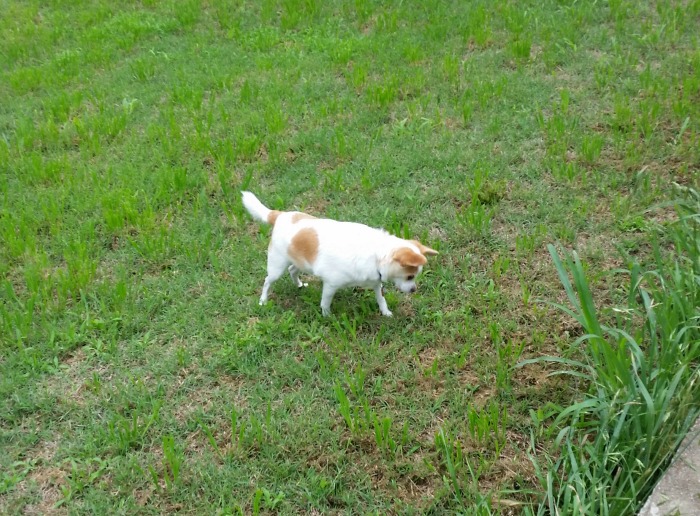 Rhino was Chasing a Bug in the Yard
My dogs always enjoy going outside to play but every time they do they end up bringing more fleas inside. This is very frustrating especially if your neighbors aren't doing anything to help control the fleas in their yards too. The other day I was at Walmart and I picked up some Adams™ Yard & Garden Spray. The spray is designed to kill live fleas, ticks, ants, mosquitoes, and an extensive list of other bugs that you might find in your yard. I love it because it kills other things besides fleas so there is no need to put additional products on the lawn. It is very easy to use and it kills fleas up to 4 weeks.
Sign Up to Receive Free Adams Flea & Tick Outbreak Alerts
To help pet parents control a flea and tick outbreak, you can sign up to receive FREE Adams Flea & Tick Outbreak Alerts in your zip code plus. You will also receive a $2.00 off coupon and be entered for a chance to win a $2500 gift card (go to www.adamspetcare.com/startsmart for complete details). The Start Smart, Stay Smart sweepstakes ends 7/31/15. Flea and tick outbreaks are more widespread when temperatures are over 70ºF and with spring in full swing, flea and tick outbreaks will be starting soon.
This is a sponsored post written by me on behalf of Adams™ Flea & Tick Control Products.
Smart Shield, the Adams blue bottle and Infest Stop are trademarks of Farnam Companies, Inc. Spot On is a registered trademark of Wellmark International. All other trademarks are property of their respective owners.
Have you ever had a flea infestation in your home? Were you able to get rid of the fleas?
If you find this article helpful and useful, please share it with your family and friends. Sharing helps Uplifting Families grow. Thank you for visiting.
Comments
comments