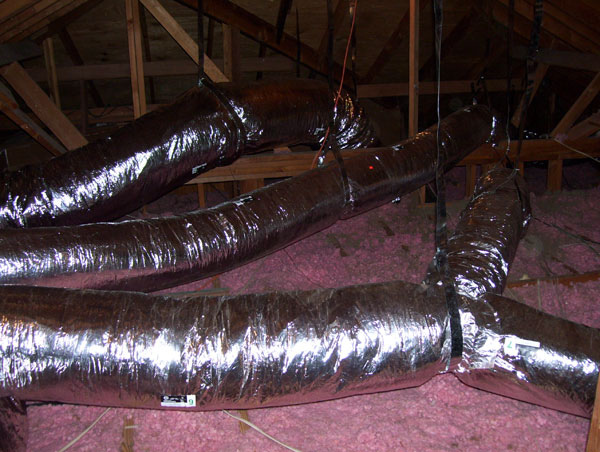 After I had my youngest son and spent quite a bit of time in his bedroom, I noticed that his room was always hot especially in the late afternoon. I bought some dark curtains after he was born to try to block out some of the sun's rays. I was hoping the curtains would be enough to keep his room a bit cooler during the heat of the day. The curtains helped some but we still noticed pretty huge difference in the temperature of his room. So one afternoon, I called the guy out who services our air conditioner/heater to come out so that he could check our a/c unit to make sure that it was operating properly and do routine maintenance.
After he finished his initial inspection and performing the maintenace, he said that everything looked great. At that point, I asked him what we could do about the two of rooms in the front of our house from being super hot in the summer time and freezing during the winter.
He went back up into our attic so that he could took a look at the duct work and he was going to try to limit the air intake on some of the other rooms that were more comfortable. But after taking a look at our duct work, he told me that he wasn't able to cut the air flow back because the way they installed it when our home was built. He said they split the air flow on some of our vents. It is normal for them to split air ducts but usually it doesn't cause a major problem. He told us that the problem, it turns out that we had some faulty air conditioning ductwork. We didn't have any holes in our duct work (which can happen if critters get into your attic) but rather they just didn't choose the duct work properly.
I asked him if there was something else that we could do and he gave me two suggestions:
add additional vent to each one of the rooms
redo do our entire duct work in the attic.
After careful consideration, we decided to try adding a new vent to each of the two rooms in the front of our house to see if it made a difference in the way the rooms felt during the summer and winter. I called and made an appointment for him to come back and fix our faulty duct work. It took him about a little over an hour to add two additional air vents and add additional duct work to our unit in the attic.
I am so glad that we had our him come out to inspect our duct work. In our case, the builder should have ran duct work for each room in our house and not ran several rooms on the same duct. So if you have a problem with hot or cold rooms, I highly suggest that you call a professional out to look at your a/c unit and determine if you have a problem with the duct work in your home. There is no reason that you should live in a home that has hot or cold spots.
Photo Credit: Flickr via Creative Commons
Do you have a hot or cold room in your house? Have you contacted an a/c repairman to do an inspection on the duct work in your home?
If you find this article helpful and useful, please share it with your family and friends. Sharing helps Uplifting Families grow. Thank you for visiting.
Comments
comments