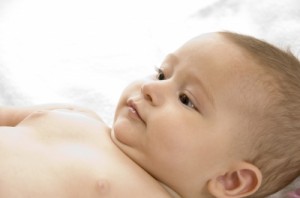 Many parents often wonder if their child is behind, on schedule, or ahead for their age of development.  Milestones were created to be used as a guide for parents and health care professionals to determine if a child needs additional help to meet delayed milestones and use them to determine if a child has a possible disability.  As a mom, all of my babies have developed skills when they were ready and I didn't focus on comparing them to other babies that were around the same age.  However, my daughter was born deaf and she was evaluated by multiple health care professionals to determine what milestones that she needed additional help with.  Most of her developmental delays were in language and speech, which was to be expected since she was born deaf.
Disclosure:  This post is for informational purposes only.  All opinions reflected in this post are my own and may differ from your own opinions.
How are Developmental Milestones Documented?
Babies develop at their own pace and should never be compared to another child when it comes to development skills.  If you compare your child to another child, this can cause you added stress and worries.  If you have any concerns, you should discuss it with your child's doctor or health care provider.  Your child's doctor monitors your babies developmental milestones during your child's well visit appointments.  During the visit your child's doctor will often interact with your baby and ask you questions about things your child is doing at home or they will have you fill out a questioner that asks you specific questions about your baby's development.  It is important that you answer the questions honestly, as this helps your child's doctor determine if your baby is having any developmental delays.  If there are any developmental delays,these delays should be addressed quickly so that your child can get additional help without suffering any further delays or problems.
Comments
comments