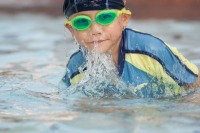 Introducing your child to water and teaching him or her to swim is a long process. You want your child to be as calm as possible around the water, but you also want him or her to be adventurous and have fun while swimming. Many parents and experts suggest that you should introduce your child to water from the very beginning with baths and other water experiences, but an inflatable pool is usually the first step towards swimming.
Small and Manageable
A large pool is unsuitable when you are first introducing your child to swimming. He or she is used to the bathtub, and even that seems fairly large compared to his or her relative size. Telling your child to swim in a pool meant for adults can easily overwhelm the child. He or she might be afraid of drowning or getting caught in so much water. While there are certainly exceptions, these pools are unsuitable for most children.
An inflatable pool is different. It gives the child and small and manageable area to swim and independently discover water. Unlike bath times that are overseen by parents, swimming is a fun and independent activity where adults can help, but it's up to the child to swim.
Inflatable pools also greatly minimize the chance of your child drowning. While you will definitely want to watch him or her, especially at first, most of these pools are so small that your child should be able to stand in them. This also gives your child a sense of comfort because it reduces fear and anxiety.
Comments
comments