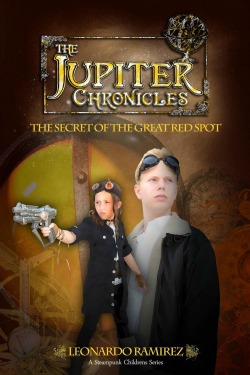 When I was growing up, I was not a huge fan of reading.  In fact I didn't find it fun but as an adult I enjoy reading.  I remember during summer reading programs or during the school year, I always had a habit of picking up the same books over and over again.  I loved reading the same type of books that I did find enjoyable.  I don't know why I did this when I was younger, but I am glad that I ditched that habit because reading the same book over and over would get boring.  As a mom, I know that it is important for kids to learn how to read and learn to enjoy it. Reading has many benefits and it is fun to do on a hot summer day when it is too hot to go outside.
I was approached by Leonado Ramirez and he asked me if I was interested in reading his book: "The Jupiter Chronicles: The Secret of the Great Red Spot".  I gladly accepted the opportunity because it looked like a book that my oldest son might be interested in reading this summer.
Disclosure:  I did receive this book in exchange for a review.  All opinions of this book are my own and I wouldn't recommend products that I don't enjoy.  
Enjoy this review? Click on the photo for more information.
The "The Jupiter Chronicles: The Secret of the Great Red Spot" is a fun and easy to read book.  My favorite part of this book was how the author incorporated a bit of Jupiter's history into the story line and I was able to connect with the characters.  Camilla is a single mother who desperately wants what is best for her children, after losing her husband suddenly.  This book was written for children ages 6 to 10 but that all depends on your child's reading level and has some real life topics that kids can relate to.  As a mom, I know all about the reality of sibling rivalry and how siblings love to pick on each other.