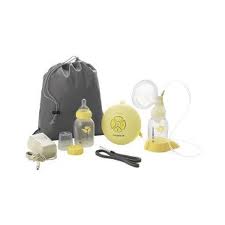 Having the right breast pump is very important for a breast feeding mother, especially, if she plans on returning to work after her postpartum check up. I personally love Medela products and used the Medela Pump in Style. However, if you need a reliable breast pump and don't plan on pumping several times a day I highly recommend this breast pump. The Medela Swing Breast Pump is a single electric pump that comes in a convenient carry bag.  It has a black drawstring bag that you can easily carry independently, in your purse, or briefcase.  It is compact and lightweight so that it is easy to carry around.  It weighs around 2 pounds.
Disclosure:  The opinions reflected in this post are my own and may differ from your own.  I didn't receive any compensation for this post.
Like this breast pump? Click on the image for more information.
Only Single Electric Breast Pump to Feature 2-Phase Expression Technology
This pump is designed to designed for the occasional pumping such as missed feeding, working part time, or to pump a bottle for a night out.  The Medela Swing is the only single electric breast pump that features the Two-Phase Expression Technology.  The Two-Phase Expression technology was designed to imitate the sucking motion that the baby produces on the breast.  When a baby first  latches on to the breast, he or she will suck on the breast rapidly to stimulate the milk flow.  The pump creates this motion using a faster pumping motion.  Then once the milk is flowing a baby will then slow its sucking motion to a slower, deeper sucking motion.  The pump will switch to a slower pumping motion.  The Swing has a "one touch" let down button that you can push to easily switch to the phase 1 expression technology(faster sucking motion).  The pump also has adjustable vacuum and speed to allow you to customize the breast pump to your desirable comfort level.
Continue Reading