I have never been a huge fan of drinking milk and my kids probably don't drink nearly enough milk each day either. I always have milk available for them to drink if they want it but I typically push them to drink more water instead. I remember when my youngest was about ready to make the switch to whole milk, my pediatrician told me to limit the milk intake. She told me to make sure that he got at least 16oz of milk a day or 2 cups. It is important for toddlers to get an adequate amount of milk because they are still learning how to eat table food and drinking milk ensures that they are getting enough vitamins, minerals, and nutrients each day.
I would like to thank MilkSplash for sponsoring this post. Don't forget to enter to the giveaway below for a chance to win $500 by submitting your favorite MilkSplash recipes.
"Disclaimer: I am a member of The Social Media Panel, LLC. who was given the opportunity to review this product. However, the brand or company has not influenced me in any way to provide any type of review other than my true and honest opinions. I am disclosing all information provided in this review according to the information provided in Federal Trade Commission's 16 CFR, Part 255: "Guides Concerning the Use of Endorsements and Testimonials in Advertising."
If your child isn't drinking at least one glass of milk on a daily basis, they are missing out on potential vitamins and minerals needed to build/maintain healthy bones. My kids have always enjoyed flavored milk but as a mom I don't like them adding syrups that contain additional calories and sugar just to drink a glass of milk. When I found MilkSplash, I was thrilled because it doesn't contain any additional calories or sugar. Plus, it comes in a variety of fun flavors: Cocoa  Loco, Sir Strawberry Swirl, Orange Cream Dream, Cookies 'N Cream and Jammin' Banana. I love the super cute bottle designs would make a perfect stocking stuffer for your kids stocking.

Simply allow your child to pick out the flavor or flavors of their choice and squeeze a small amount of MilkSplash flavoring into their glass of milk and stir. You can add as little or as much as you want so that the flavoring satisfies you or your child's taste buds. Your child can even take the flavoring to school and add it to their milk at lunch. The flavoring package is small enough to carry in a lunch box, purse, or backpack.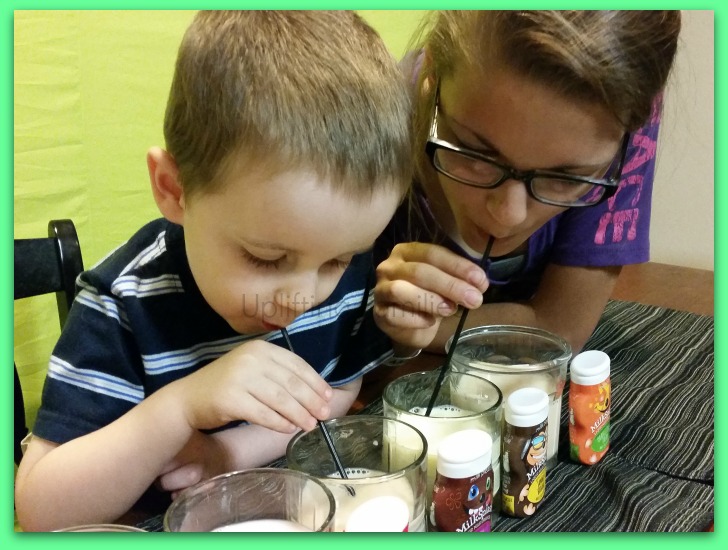 When I received the samples in the mail, my kids were eager to try the flavored milk. They grabbed the milk out of the refrigerator and I allowed them to try a flavor of their choice and they were impressed. I was also curious to taste the different flavors and had to try them all. If I had to pick a favorite flavor, I would have a tough time but I would have to pick Sir Strawberry Swirl, it tasted like a Strawberry milkshake to me. I was even impressed with Orange Cream Dream and Jammin' Banana flavors too. Create your own #MilkSplashRecipes like this Chocolate Covered Banana:  simply mix and Cocoa Loco and Jammin' Banana to create a tasty dessert or drink to go with your meal.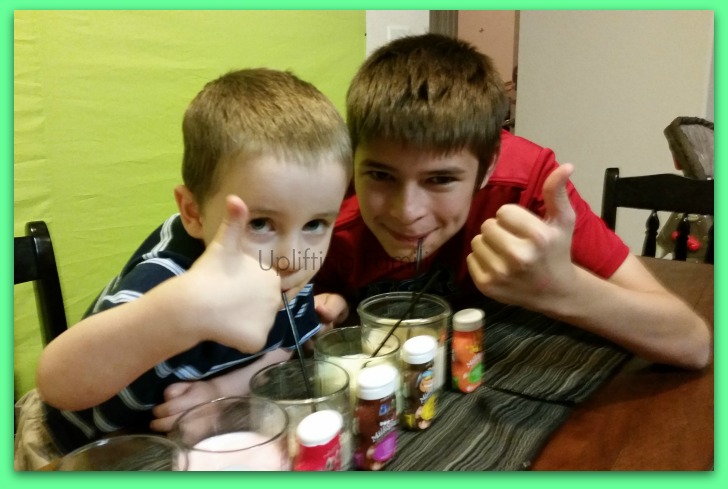 You can find MilkSplash at Target and Walmart as well as regional grocery chains  HEB, Food Lion and Harris Teeter – with more to come. Find a retailer near here.
MilkSplash makes drinking milk awesome – and now you can use it to make cooking  awesome too! We want to see the creative ways you use MilkSplash in fun recipes for your family. Recipes can be submitted until November 29, 2014. One lucky winner will receive a $500 Visa gift card for entering the contest! The winner will be announced during the MilkSplash Twitter party on December 1, 2014. You must attend the party to win. Please remember that all recipes must include at least one flavor of MilkSplash.
Don't forget to visit MilkSplash website and follow on Facebook.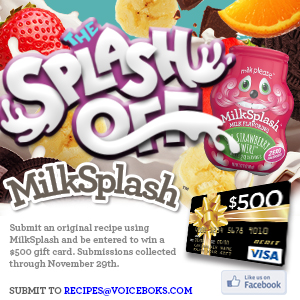 Comments
comments