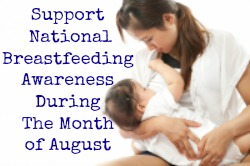 Breastfeeding was on of those taboo topics that people just didn't talk about when I was pregnant with my first child.  As a new mom, I knew right away that I wanted to try breastfeeding my baby.  My first experience with breastfeeding happened when my twin sisters were born.   I remember seeing my mom breastfeeding and knew that my body was designed to feed my baby.  My mom also rented a breast pump for a short period of time so that she could give my twin sisters breast milk, they were born six weeks early and spent a few days in the NICU.  My mom only breastfed them for a short period of time to help boast their immune system.  When my mother had to return to work, she decided to ditched the breast pump and decided to give up breastfeeding and switch to formula.
Disclosure:  This post is for informational purposes only and is based upon my own experience.
 In honor of National Breastfeeding Month, I wanted to share my own breastfeeding journey.
After watching my mom breastfeed my younger sisters, I felt that I knew enough to attempt to exclusively breastfeed my baby.  When my daughter was born, I remember putting her to my breast for the first time.  She latched on right away and I felt like a natural.  When we were discharged from the hospital, I remember that the hospital sent home some formula samples in case that I changed my mind and decided not to breastfeed.  That formula went to waste because I never ended up using it.  My daughter loved breast milk so much that she would talk and make noises while eating.  I breastfed her for about 13 months, when I finally decided to wean her.
Comments
comments