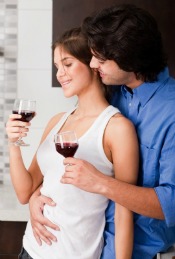 Many parents often wonder if they should drink alcohol in front of their children.  If you do drink alcohol in your home, do you wait until your children are in bed or do you consume it in front of them?  I personally feel that if you are going to drink in front of your children that you should consume it in moderation, as long as it isn't illegal is perfectly normal.  As a responsible adult, I know that it is safer to drink in the comfort of my home so that I don't have to worry about driving home after consuming an alcoholic drink.  If you are caught drinking and driving, most adults realize the severe legal ramifications that they might face for driving while intoxicated or under the influence.  However, a teenager isn't likely to know these legal ramifications if they are caught underage drinking and/or driving intoxicated.  As a parent it is your job to lead your child by example, they are watching everything you do on a daily basis.
Disclosure:  This post is for informational purposes only.  All opinions reflected in this post are my own and are based on my own experiences.
Did You Know that Alcohol is the Number One Abused Drug by Teenagers?
I remember when I was in high school I would constantly hear stories about how some of my classmates spent their weekend and over 50% of the time the stories involved alcohol consumption.  Underage drinking isn't a new issue and it causes major health problems according the to the CDC.  In fact, teenagers are more likely to binge drink.  Teenagers can easily get ahold of alcohol because it generally is readily available and can be found in most households.  Parents often don't realize that some of their alcohol stash is missing and don't think about the consequences of leaving alcohol available unattended in their house.  Did you know that children as young as ten or eleven take their first drink?  According to KidsHealth, most kids have their first drink of alcohol before they are 10 years old.  It is possible that kids even younger have had their first drink accidentally.
Comments
comments