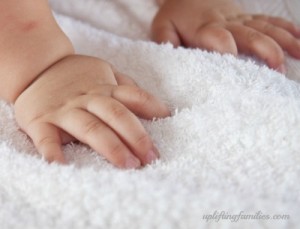 Trimming a tiny baby's finger nails is the hardest thing that you will have to do as a parent.  I know that I personally hated trimming my baby's finger nails but it was something that I had to do so that my baby wouldn't scratch their face all up.  Their nails are soft and very thin.  Also, with a squirmy baby it make it hard to trim as well.  It doesn't get any easier as your baby gets older either, they learn to fight back by pulling their hand or toes away and can wiggle so much more.
Disclosure:  This post is for informational purposes only.  The opinions reflected in this post are my own and may differ from your own opinions.
If you accidentally cut your baby while trimming their nails, please don't beat yourself up over it.  Almost everyone accidentally nicks their baby fingers or toes when they are trimming their nails.  I promise that your baby will not remember it after a few minutes.  Just try to control the bleeding with pressure and ice as needed, however, don't put a band-aid on their finger.   A band aid poses a chocking risk to your baby.  It can accidentally come off their finger and if your baby puts it in his or her mouth, they could accidentally swallow it or choke.
Comments
comments