Thank you Prego® for sponsoring this post.  All opinions are my own.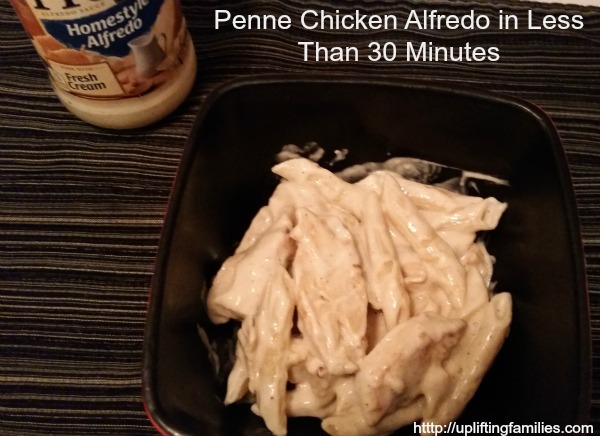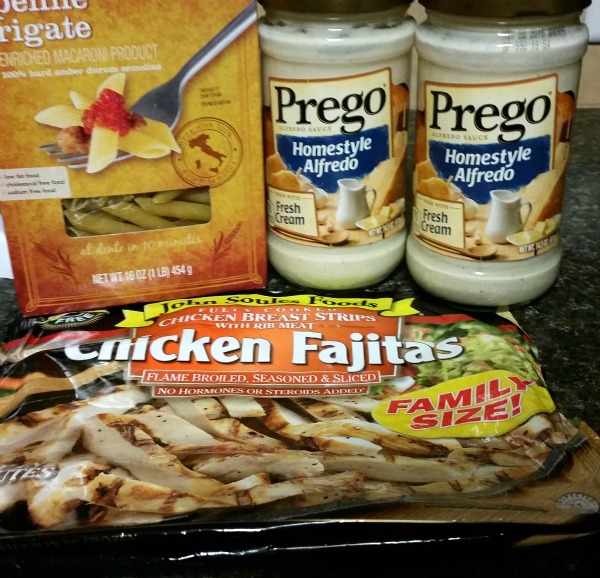 I hope everyone had a wonderful Holiday.
Not too long ago my youngest son dressed up as a Ninja Turtle for Halloween, and I can't believe that I missed the opportunity to catch a photo of his costume. We took him to the Trunk or Treat at our church and he had a blast. I even decorated the Trunk of our SUV so that I could hand out candy and glow sticks to all of the kids. There was so many cute costumes this year too!  I hope that your kids had a blast on Halloween too!
A few months ago, I shared my favorite Italian recipe: Easy Homemade Lasagna and I get to share another one of our favorite go to meals. I love this meal because it is something that I can make and have on the dinner table in 30 minutes or less. I hope that you and your family enjoy this recipe too!
You will need the following ingredients:
1 pound ready to cook fajita chicken (I use John Soules)
2 jars of Prego Homestyle Alfredo Sauce
Box of Penne Pasta
Optional: peas/carrots/spinach
Optional: pico de galo
Optional: freshly shredded Parmesan Cheese
And here is how you make it!
Lightly brown 1 pound of ready to cook fajita chicken in a skillet. I usually chop the chicken into smaller pieces if the package contains any huge strips of chicken.
Make penne pasta according to the package.
Drain the pasta and pour it back into the pot.
Add chicken, 2 jars of Prego Homestyle Alfredo Sauce, and optional peas, carrots, or spinach. Stir and heat for 5 – 7 minutes so that the sauce is hot. Make sure that you stir it frequently.
Serve.
Garnish with optional pico de galo and shredded parmesan cheese.
Serve with garlic bread or salad too!
Enjoy!
This is a quick and easy meal that you can get on the table in less than 30 minutes. You can even serve this fun Alfredo meal a variety of different ways. It is kid friendly too!
Check out my other great recipes on the blog! Don't forget to sit down and eat together as a family too!
Have you ever made any fun recipes with Prego sauces?