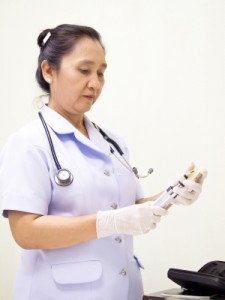 My son was coughing so much at breakfast on Saturday morning that I called his doctor to ask them what I could give him for his cough.  The nurse told me that they wanted him to cough during the day but I knew my son was miserable and wasn't going to stop coughing unless I gave him some medicine.  We wanted him to be able to enjoy the Easter egg hunt, since it was his first year to be able to get down and hunt eggs by himself.  After we finished with the Easter egg hunt, we came home so that he could get some rest.
So after we finished breakfast, I headed to the drug store to grab him some medicine to try tame his cough long enough to get him through the next few hours so that he could go to the Easter egg hunt and carnival at our church.  I spoke to the pharmacist and he recommended trying some Allegra in addition to the the Zarbee's that his doctor recommended.  So I gave him a dose of the Allegra and it seemed to do the trick.  He was able to hunt Easter eggs, play a few games, and ride the train.  For feeling miserable, he had fun and he loved riding the train.
Disclosure: This post is intended to share my son's personal experience with allergy and cough medicine and shouldn't take the place of a doctor's visit.  Seek medical advice from your child's doctor if your child has a persistent fever and cough.
The next morning I noticed that he was running a fever again even after being on antibiotics for Strep throat last Thursday.  Yesterday, me and the baby missed Easter service at church because he had a low grade fever, was wheezing, and terribly cranky.  Yesterday afternoon we spent most of the afternoon resting.  Yesterday evening after I gave him a bath, I noticed that he was shivering when he was laying on our bed wrapped in a towel.  I decided to take his temperature, even though I just got him out of the bath, and his temperature was above 102.