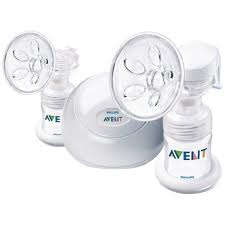 The Philips Avent Twin Electric Breast Pump is a dual electric breast pump that comes in a easy to carry microfiber travel bag.  This pump was designed for busy moms who are on the go and need to pump breast milk to continue to feed their baby breast milk.  The pump weighs less than 4 pounds, making it lightweight to carry around.  It also comes with a one-year limited warranty.
Disclosure:  The opinions reflected in this post are my own and I was not compensated for this post.  This post may contain affiliate links.
Like this breast pump? Click on the photo for more information.
Massaging Breast Shields Help Stimulate Milk Let Down
Philips has designed their pumps to mimic the sucking motions that a baby does when attached to the breast and this motion enables a mother to pump the amount of milk similar to that of a hospital grade breast pump.   The breast shields contain soft massage cushions which help stimulate the natural sucking  rhythm that a baby produces to trigger "let down".  The petals in the breast shields move in and out, which is similar to a baby suckling.  If you find the petals uncomfortable, you don't have to use them in order for the pump to work.
Twin Pump Has Electronic Memory Function to Remember Pumping Preferences
Avent's Twin Electric breast pump uses a two different types of pumping mechanisms to pump breast milk from your breasts.  To begin pumping you use the control, the first type of pumping, to create a natural rhythm.  Then the second pump will imitate your pumping rhythm with the push of a button.   You can easily adjust the speed, rhythm, and vacuum to fit your desired comfort level.  There are unlimited combinations so you can customize the breast pump so that it is comfortable to use.    It also has an electronic memory function that learns your pumping preferences.
Comments
comments