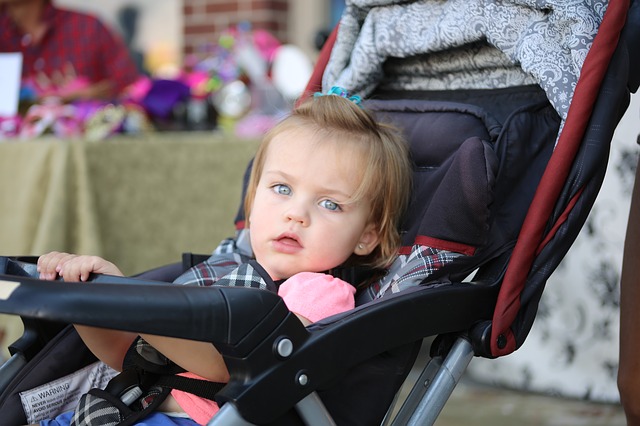 Once you see a handful of the many strollers available you may decide one is not enough. You'll notice all the features simple vs more functions mean as far as a stroller. You'll probably want to get two. Why? Because you'll want one for short, easy trips and one for longer strolls that carry a bit more. For instance if you go to concerts, festivals or any other events that are great for families, a stroller that carries a bit more is a great idea. However, if you travel often chances are you will want an umbrella stroller that doesn't take up much room in the car or airplane.
Short and Longer Outings
You could be going for a 10- minute walk through the neighborhood or a 2-hour outing at the mall. A quick walk through your neighborhood won't require a more extensive stroller. Head to the mall for a couple of hours and you'll notice how much a stroller with more features makes things easier.
Switching From Sling to Strollers
Sure a sling works extremely well for the first year or first six months. But after that your baby is more wiggly and mobile. They want to sit up and enjoy a stroll. There are some parents who may decide to not use a sling at all in the beginning. Strollers may feel easier to use than a sling. But it's nice to know what options you have.
What to Look for in More Expensive Strollers?
While looking for strollers for triplets and tot trios, the idea isn't necessarily to buy a more expensive stroller. It's about making the most of the features that work for you. Get one that has a little bassinet built into it.  Festivals, carnivals, concerts and other events may take a while. Your baby may want to nap. Unless you have a light sleeper, most babies can catch a nap during these events laying in a comfy bassinet as they're being strolled along through the event.
Snacks on the Go
More elaborate strollers come with drink holders, a tray in the front that might have a rattle, and a snack tray. It depends on the model you get and your budget. The snack trays are nice for eating crackers or cheerios. Take the snacks out of the diaper bag and place them on the snack tray or buy a cute snack container for your child. There is some convenience there.
Rain and Sun Protection
Sunny days are the best, but the blaring sun in your eyes is not so much. Babies dislike this even more. That's why companies built some strollers with a sun shade to keep little baby eyes protected. On rainy days, Keep the roof over your baby. There are plastic protective "window" shield type pieces built into strollers to protect your baby from the rain. But by the time it's heavily raining, you're not likely going to be taking your baby out. These rain protectors only work so well because of this.
Wheels and Frames for Where You're Going
Look for strollers with frames and wheels that are built for any kind of terrain you're going to come across. Hiking up a trail, going up a hill, walking down a dirt road – the wheels and frame on these strollers make you confident that your baby is going to enjoy a super-comfortable ride. Get a shock-resistant frame that provides that extra cushioning for your baby – it makes the ride extra soothing. Check out these all-terrain strollers.
Why Strollers are so Wonderful
In the beginning it's so sweet to hold your new little one. You enjoy holding them a lot as much as they enjoy being held. But as they get older, they get heavier. They get more difficult to hold for long durations of time. Strollers are so convenient for holding your baby and giving them a chance to see the world around you both from a different vantage point.
Strollers don't just come with features, they come in all kind of colors and designs just like diaper bags.  So you have lots of options this way. Get a stroller with a print or color tailored to whether you have a boy or girl or unisex.
Photo Credit: Pixabay
Confession time: How many strollers do you currently own? What type of stroller do you have for your child?