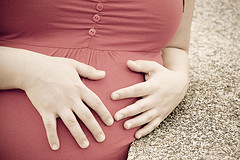 The crisp season if finally underway – which means cozying up in your favorite knit wear, bottomless cups of hot chocolates, and wearing fall fashion trends are a must. While comfort should be the main key when it comes to dressing during your pregnancy, it doesn't mean you have to flaunt the old boring combinations all the time. You can still keep up with the dresses, accessories and footwear trending on the runways and transform your pregnancy into ultimate style.
Here are some key fall fashion looks for 2014 to keep you and your bump always looking stylish and trendy:
Tailored essentials
Though it may seem convenient to hide the bump under baggy pants and loose winter shirts, it doesn't look as pretty as a tailored pair or jacket or jeans, and can actually result in a bulkier look. If staying fashionable is your top agenda, go for a maternity jacket.
Maternity jackets for the fall season combine classic and timeless cuts to create a tailored look that keeps you cozy while flattering your growing belly. If you're buying before the third trimester, go for a size bigger than you need.
Fall accessories and Footwear
One the days of the week when you're feeling pregnant and require a pick-me-up, it's time to think accessories. Scarves are colorful, versatile and easy to add to any outfit. If scarves are not your forte or they take away attention from your neck, you can go with necklaces that just add a splash of sparkle to an outfit for a little interest.
Look for ballet flats and preggos: these are all the rage. The last thing you want is to teeter around in high-heeled, pointy-toed footwear (off-balance moms-to-be should be careful from the kitten heels). Try something casual and made of thick suede, and feature a flexible, comfy rubber sole.
Leggings
Maternity leggings are an inexpensive and comfortable wardrobe stable during pregnancy and can even be used after giving birth. RuPreggers.com  offers them in a variety of fall/winter colors, affording moms comfortable and fashionable support while enhancing circulation, preventing swelling and energizing feet and legs. The ones that offer compression can be a blessing to your physical health and fashion sense.
Leggings are available in fabrics from corduroy to cotton, and can be picked up in multiple sizes. Even though maternity might now allow you to pull up a skirt or leather pants, you can use tops with maternity leggings, and even add in a mustard sweater or a structured jacket to make a style statement. Whenever you're pairing something with leggings, it's a good idea to try it on, to make sure that it is comfy and that it will expand with your bump; the leggings don't need to be tested as they will be suitable in one size throughout the nine months.
Wrap Coats and Oxfords
Boxy jackets stole the runway shoes in the spring season, and it looks the designers are going with the longer version for maternity during the colder temps. An oversized wrap coat would go over the bump with ease and would look great over a multitude of layers. You can also take the streamlined route and pair up wrap coats with think turtleneck and slim-cut trousers.
If you're going to continue work, menswear-inspired oxfords will raise the bar. They can be paired up with sharp suits once you clock in and silk blouse later.
Photo Credit: Flicker via Creative Commons
What was your favorite maternity must have during your pregnancy?