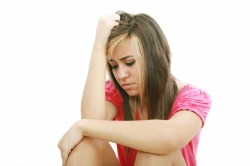 Are you a victim of domestic violence or stuck in an abusive relationship?  Abuse comes in many including: physical, emotional, verbal, economic, mental, and sexual abuse.  Remember that abuse can happen to anyone.  Often times there are red flags early on in the relationship and most people tend to ignore them.  When someone is trapped in an abusive relationship, most victims won't open up and talk about their problems with others.  Most victims will often hide the abuse, claim that it was an accident, or make excuses.  When in an abusive situation, most people think that their abuser is going to change, that their situation is going to improve, or the abuser is going to get the help they need.  However, most abusers are stuck in a constant pattern of abusive behaviors and the victims are often continually abused.
Disclosure:  All opinions in this post are 100% my own and may differ from you own opinions.  I am am not a professional.  If you are stuck in an abusive relationship, please seek the help from a licensed professional and seek legal advice. 
Find a Support System Before You Decide to Get Out of An Abusive Relationship
If you are caught in this type of relationship, I want you to know that you aren't alone and there are agencies that are willing to help you and your family out of an abusive relationship.  Many victimes want to getting help but they are often talked out of it by the abusers.  They often make lofty promises to change and to seek help for their unwanted behavior.  If you don't live with your abuser, I highly recommend that you find support system before you decided to get out of an abusive relationship.  You want people to be there and  to support you and help you while you are trying to get out of a difficult relationship.  Once you start the process, you want to follow trough with your decision.  A great support system will be there to gently remind you when things get tough, offer you support when you need it, give you someone to talk to, and someone to provide loving advice.  A support system can be a trusted family member, friend, or even a counselor.
Comments
comments