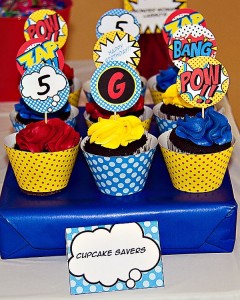 I love celebrating birthdays and sometimes I have a hard time coming up with a theme for my kids unless they pick one out. Here are some fun birthday ideas that Alex wanted to share with you today.
Kids love themed birthday parties, especially if it has to do with their favorite fictional character, super hero or activity. In fact, picking a theme for the party makes it easier to plan the party around it. You can design decorations, plan activities and even create food that complements what the party is about. There are a variety of themes you can explore, and then design activities, games and crafts around it.
Picking A Theme
The party you are planning, depending on the age of your child, can revolve around airplanes, alphabets, baseball or basketball, ocean and beach, bubbles, butterflies, cats, circus or carnival, dinosaur, Dr. Seuss, fairy tale, Harry Potter, ice cream, Looney Tunes, music, medieval kings and queens, nature, nursery rhymes, pirates, Spongebob Squarepants etc. The list can go on. One of the most popular themes, especially with boys, is a Super Hero theme.
Older kids will love '70s disco themes, jewelry making parties, makeover parties and other activity-based parties where they can get together with friends and create pretty new and wearable things. When planning a theme party, choose a subject, character or superhero that your child is excited by. You're bound to make the party so memorable for him or her that you'll probably find it hard to match at the next birthday!
Choosing Games And Activities
Once you've got the party theme chosen, you have to think about what you can get the kids to keep themselves occupied with. If you're having a jewelry making party for older kids, you can have them bead safety pin jewelry. This is easy to do. All that you need to do is to slip seed beads into regular safety pins and create fun jewelry to wear and gift. You'll find plenty of bead patterns online.
You could also play a game of Bingo with printable theme cards available online. You will find Bingo cards with animal motifs, Dr. Seuss motifs, bug motifs and other popular subjects that kids love.
A treasure hunt makes a great activity for an adventure birthday party for kids. To prepare the kids for it, get your child to write the invites in invisible ink. Maybe have them deliver the invites in a little bottle with instructions on a tag – "Iron Me". Hang up world maps on a wall or make buntings out of photocopies off an Atlas. Have the kids come in costumes of boots, a hat, maybe a compass and a backpack. Create shelters on your yard out of palm fronds or sheets on branches. Hang plastic spiders and snakes where possible.
If you're planning a ballet party for your little girl and her little girlfriends, then there could be plenty of pink and white satin and tulle ribbons. Activities could include giving the girls in tutus some basic ballet lessons, having them create their own jiffy shoes with stick on pearls, ribbons, small beads and sequins, glue and puff paints, or a game of dance and 'freeze' when the music stops.
Plan activities around other subjects in similar ways – pick activities that everyone can enjoy together, and offer prizes for little contests when you can.
Image Credit: Super Hero Cupcakes on Pinterest
Fancy Dress Parties
Fancy dress parties are always fun because kids can pick their favorite character and act them out. You can choose one story (cartoon or movie) or maybe even better, a broader theme (such as Disney party), so the kids could make their choice more easily.
Think pirate party, where kids dress up as pirates, or Harry Potter parties, where you'll have little witches, wizards and even dragons coming up for cake.
Batman, Spiderman, Wonder Woman and any hero with a cape can show up at a Superhero Party and little girls in princess costumes, tiaras, queen outfits and plenty of glitter will glide across the yard at a Princess Party.
Plan themes, decorations and fancy food based on the type of fancy dress party you're having. For instance, a pirate party is just the place to serve jelly boats and little biscuit wands or flower fairy cupcakes will be loved by the little kids in fairy costumes. If your kid is interested in historical films or history, go for a unique and fun theme like a Medieval or Renaissance party. They and their guests can dress up in elaborate gowns, shining armor armors, or glamorous suits and pretend to be lords and ladies from the Middle Ages.
Face painting is a fun activity at costume parties. A soldier can have his face camouflaged with green and brown paints, a soccer player can wear the colors of his favorite team or country on his face and a little girl dressed as a cat can have her face painted to look like one. You can make your own face paint at home, with cornstarch, cold cream, some cold water and food coloring.
The ideas are all there. Come up with some of your own as well. Get creative and start planning your child's unforgettable birthday party. You're bound to have as much fun planning it as the kids will have being a part of it on the big day!
Alex is a proud aunt of a 5-year-old girl and she loves playing all sorts of games with her. They're both enjoying the summer together in Europe. We all know that an aunt is like a mum, only cooler 🙂