Rascal took off his diaper late last night and left it laying on the couch.  Thankfully, it wasn't a stinky diaper.  I also had to help him clean the butt paste (diaper rash cream) off of his nose.  After, I got him cleaned up, he was ready to head off for his nightly visit with Santa Claus.  As usual, I didn't hear him sneak back into our house.  By now, you have probably figured out that I am a deep sleeper.
When I came out of our bedroom this morning, I couldn't believe my eyes.  Rascal got into my penny jar and how he moved it by himself is beyond me.  My penny jar is pretty heavy and made of glass.  I was very surprised that he didn't break it into a million pieces.  As I got closer to him, I noticed that he opened the top and spilled some money out.  Rascal, was pretty creative and left the kids a message this morning.  He wrote his message using pennies (see below).
Rascal was in the front entry way this morning, which is right next to the baby's bedroom.  I was shocked that the baby didn't see him when we were walking down the hallway to the living room.  My little boy was looking all over the house for Rascal and asked his older brother to help him find the Elf.
Rascal wrote this for the kids to see.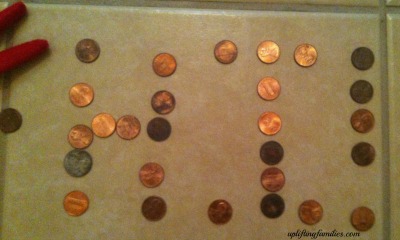 Rascal was digging for more money.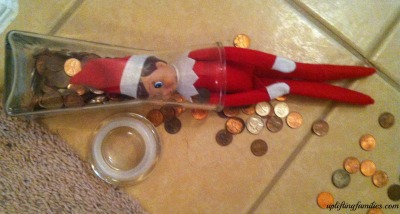 Rascal playing with money.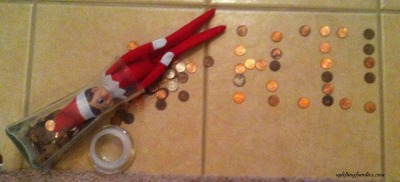 Rascal what are you doing in there?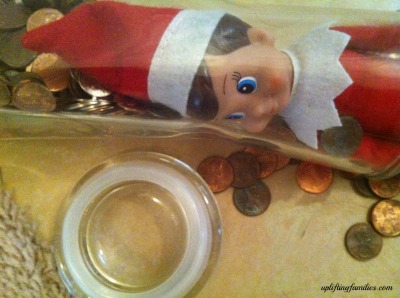 What will Rascal do next?  Check back to find out.
Comments
comments