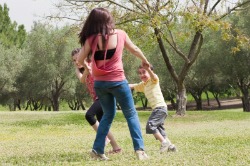 Do you remember playing Ring Around the Rosie as a child?  I do!  I remember playing this game when I was fairly young.  When my son came home from daycare a few days ago saying "posies, posies" while grabbing his older brother's hand.  I was trying to figure out what he was talking about.  My son would grab his older brother's hand  and start walking around in circles until they both fell down.  Then it clicked in my head that he was playing Ring Around the Rosie with his older brother.  My youngest son thinks it is hilarious to fall down on the floor.
Disclosure: The opinions reflected in this post are my own and may vary from your own opinions of the Nursery Rhyme.
I decided to investigate the origin of this nursery rhyme after my husband told me that it was talking about the Bubonic Plaque.  I was curious to see if this was true since I had never heard that rumor before.
Ring Around the Rosie is a popular childhood Nursery Rhyme that has been around since the mid 1300's.  However, due to contrary belief most people don't know what the origin or story behind this popular kids nursery rhyme.  Many people believe that this song was written about the "Black or Bubonic Plague"; however, according to Snopes this rumor is false.  The popular nursery rhyme original origin is unknown and people later decided to tie the nursery rhyme to the bubonic plague that swept through Western Europe.  In 1350, the bubonic plague was responsible for killing over a third of the people that resided in Western Europe.
"Ring Around the Rosie,
pocket full of posies,
ashes ashes,
we all fall down."
Comments
comments