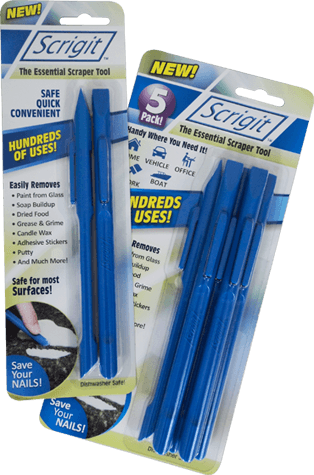 Do you use your nails to clean up stuck on food or messes around the house? I am guilty and it never fails that I always end up breaking a nail. When I was asked to review the Scrigit – The Essential Scraper tool, I jumped at the opportunity because I get tried of trying to get stuck on food off my glass top stove. If you have a glass top stove, you probably know exactly what I am talking about too.
While I am busy cooking, I often spill or make a mess on my stove. I usually end up leaving the mess until after the burners cool off. I don't want to accidentally burn my hand or catch a towel on fire while trying to clean it up. By the time I get around to cleaning up the mess it is usually stuck on the stove and cleaning it up isn't easy. Today, I grabbed the Scrigit and let it do the dirty work for me.
I used this cool tool to help me scrap off the dried on food off the stove. I was amazed that this tool was able to clean up my stuck on food quickly and easily. The Scrigit was created by Jay because his mother always had long and sturdy fingernails. She would always use her fingernails as a mini scraper to clean small spots off of household surfaces or clean out grooves. Of course, if you are like me, I don't have sturdy nails and can't use them as cleaning tools around the house. I have tried other tools and they would scratch up the surface. This tool can't be used near heat or on hot surfaces, like the stove. You will have to wait until they cool down to use it.
Also, depending on the surface that you want to use this handy tool on, it still might scratch up the surface. You can add water or use something like goo be gone to help soften it up first. Then carefully use the Scrigit to clean off the mess.
Here are some ways that you can use the Scrigit around the house:
removing dried food
wax
grime
adhesive labels
stickers
tape
crafts
DIY projects
open shrink-wrapped packages
opening soda cans
dried on gum on the bottom of your shoe
and many other uses
Purchase the Scrigit Scraper on Amazon. These are the perfect gift idea for mom or dad's stocking too!
Enter to Win 5 Pack of Scrigit Scrapers and $20 Amazon Gift Card!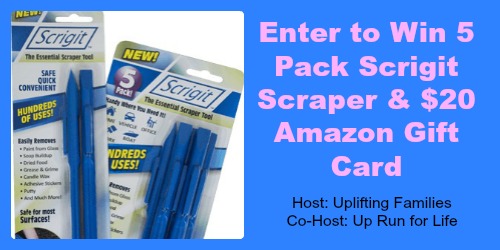 Now for the fun part, you can win your very own. Today, I am giving away a pack of 5 Scrigit Scrapers and a $20 Amazon Gift Card. This giveaway is open to US residents 18 and older. All entries will be verified. Only one entry per household. This giveaway ends 11/06/2015 11:59 pm midnight CST. The winner will be notified by email and will have 24 hours to respond to the winning email. If I don't receive an answer after 25 hours, I will pick a new winner.
Disclosure: Uplifting Families is responsible for prize fulfillment. All other bloggers didn't receive any compensation for participating in this giveaway. Uplifting Families received a 2 pack of Scrigit scrapers in order to facilitate a review. This opportunity was made possible from Advertise with Bloggers.