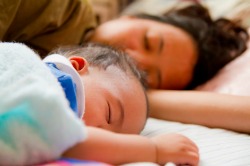 Co-sleeping is a fairly common practice and many parents sleep in the same bed or room with their young baby or toddler.  This is a very controversial topic in the United States and most people think co-sleeping is completely dangerous and that it should be avoided.  However, as a mom I know how hard it is to be able to get a good night sleep especially after you return back to work.  If you are like me, it is difficult for me to function on a few hours of sleep and I would do what I had to do some nights.  I know that if your baby isn't sleeping at night then neither are you.  Co-sleeping isn't for everyone.  I highly recommend that if you are planning on co-sleeping, you should discuss it with your spouse while you are still pregnant so that you can come to an agreement on how you want to handle sleeping issues.
Disclosure:  All the opinions in this post are my own and may differ from your own opinions of co-sleeping.
When my babies were younger, they would always fall asleep on my chest or in my arms but the moment I would put them in their own crib they would instantly wake up.  Most parents can attest to this behavior.  You have to remember your baby naturally had a different sleeping schedule while inside of the womb.  When your baby is born, most baby's have a hard time adjusting to life outside of the womb.  When you were pregnant, during the day time you were constantly moving around while you are working and you don't realize that you were constantly rocking your baby. If you recall your baby's movements during your pregnancy, you probably noticed that you were able to feel your baby moving in your belly when you were trying to sleep or while you were stilling still.  So when baby's are born, they no longer have the soothing rocking motion and can no longer hear the sound of your beating heart unless they are snuggled against your chest.
Comments
comments