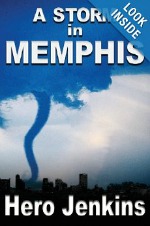 Technology has made reading books easier for me.  I love reading new books and I love being able to read books on my smartphone using an e-reader app.  I love being able to read while laying in bed or on the go.  I was approached by Hero Jenkins about a month ago and I was asked if I would be interested in reviewing "A Storm in Memphis."  I was excited for this new opportunity because I love reading new books.  I also enjoy sharing great books with other people.  Hero Jenkins is a former Law Enforcement Officer and he has always dreamed of writing a novel based upon his own law enforcement experiences.  "A Storm in Memphis" is his second novel and it is a great science fiction/thriller book.
Disclosure:  I received this book in exchange for a review.  All opinions of this book are 100% my own and I would never recommend a book to my readers that I didn't enjoy myself.
Like this review? Click on the photo for more information.
Will Compton is a time-chaser traveling cop who is getting burned out from dealing with crazy people.  As a chaser, he often has to travel in time to prevent illegal time travelers from changing history forever.  The illegal time travelers have typically purchased time machines from the black market so that they could travel back in time.  The government tried to intervene; however, there were time machines that were crafted illegally.  Will or his co-workers would have to chase down these illegal time travelers and disperse them before they had the chance to change the historical timeline.
Most of Will's missions are fairly simple but one afternoon he was assigned a mission that would push him to have to make difficult choices.  The choices that he would make is to protect the future of humanity. Will was required to travel back in time to Memphis, Tennessee on the day before Martin Luther King's assassination on April 3rd, 1968.  Why is this an important day in history?  After a nuclear war has almost wiped out all of man-kind, the Martin Luther King memorial was a sign of hope for a new future when everything else around them was a huge wasteland of destruction.  This memorial gave them the sign to rebuild a community based upon non-violence, peace, and love.  These principals were etched into the memorial.
I am normally not a huge fan of science fiction or history; however, this book made science fiction and history fun.  Hero Jenkins is an excellent writer and made this book seem very real.  In this book, you will find real issues from prejudice, love, grief, difficult decisions, betrayal, humor, romance, and humor.  I loved the characters in the book.  He did an awesome job tying all of the characters together and making this story believable.
About the Author
Hero Jenkins is married and a father of five currently living the retired life in San Diego. Throughout his career, Hero has toyed with the idea of writing a Novel that would allow him to draw upon his experiences in Federal Law Enforcement. Now, with his career at an end… he is embarking on a new one. He published his first novel "Project Dreamscape", which is available on Amazon, in 2011. "A Storm in Memphis" is his soon to be released second novel.  You can connect with Hero Jenkins on his blog and on Twitter.
What book are you currently reading?