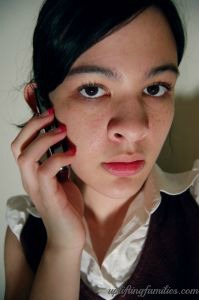 Children are heavily involved with technology at a much younger age now and parents need to be involved with their child's involvement on the Internet.  I remember growing up as a child, we didn't have the technology that is around today, I had a gaming system and a walkman.  Kids today have cell phones(some with Internet access), iPods, computers, laptops, e-readers, tablets, and so many other devices that connect to the Internet or their friends.  As a parent, it is my job and responsibility to protect my child from the dangers on the Internet.  I also understand the importance of teaching my children how to properly use the Internet/social media so that when they are adults they have an understanding of the benefits and dangers that the Internet poses.
Disclosure:  The opinions reflected in this post are my own and may differ from your opinions.
The Internet Has Made Research Easier
The Internet allows children to perform research for their school projects at home.  Even with school projects, children must be taught how to properly use other people's ideas and quotes so that the original author is given proper credit for their work.  I remember that I had to go to the library and spend hours finding information for school research papers, the Internet gives kids the opportunity to research at home using the family computer.  Plagiarism can get a child in major trouble; however, this was an issue even without the Internet.
Find Additional Resources to Help With Concepts that You Don't Understand in Class
The Internet is great for finding examples of concepts or lessons that a student may be struggling with at school.  Ask your child's teacher for a list of trusted websites that can assist students with their classwork.  Often times, the teacher has additional resources available if they ask for help.  This will keep you from searching and wasting time trying to find a reputable site.
Do You Allow Your Child To Use The Computer Freely?
Many parents are allowing their children to use the computer unattended.  Personally, I think this is a very bad idea.  If you aren't watching your child, they could easily create accounts on social media tools such as Facebook, download illegal music or movies, or find other inappropriate content that is not suitable for young eyes.  It is possible for inappropriate content to appear in the search results for a search term that is appropriate for a younger child.