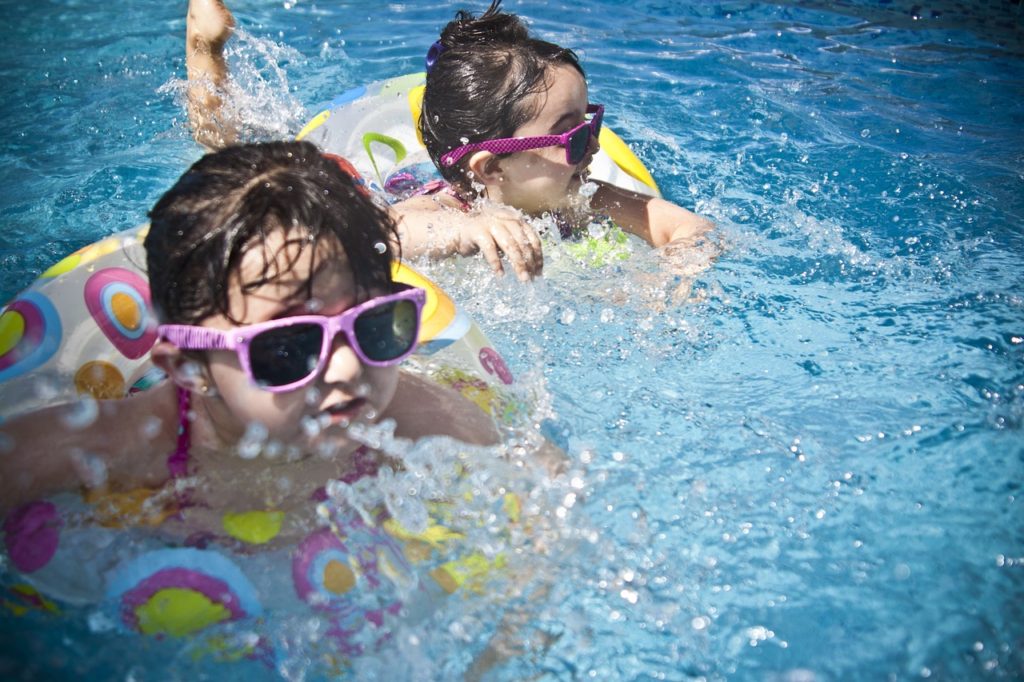 If you're the owner of a house with a pool, you need to install protective fencing if you haven't already. If you have small children or pets, an unfenced pool can put their safety and risk, and proper fencing will also protect the neighbor's kids from jumping into the pool unsupervised. When it comes to fences, however, you have a variety of materials to choose from. Here's a rundown of the advantages and disadvantages of several different materials you might use to construct a fence around your pool.
Wood
Wooden fencing is affordable and versatile, and the natural beauty of the wood makes a great compliment to many yards. Because it is a natural material, however, wood is vulnerable to the elements, and wooden fencing that encloses your pool will be exposed to more water than usual thanks to splashing children. If you decide to use wood for your pool enclosure, be sure to reapply fresh paint and stain periodically to protect the wood from moisture. You should also keep in mind that wood fences are somewhat climbable, which is an important factor if your or your friends or neighbors have older, more agile children.
You should also keep in mind that wood fences are somewhat climbable, which is an important factor if you or your friends or neighbors have older, more agile children. Other than that, wood fences look elegant and can add a great charm to the whole setup.
While you have your pick of colours, white pool fencing looks elegant and classy. Beige as a neutral colour is also a good option along with brown and black. You can pick the colour based on the rest of the colour scheme around the pool area.
Chain Link
Chain link fencing is popular due to its low cost and easy installation. Although chain link fencing is made from metal, it is put through a process of galvanization, during which chemicals are added to prevent the metal from rusting. In addition, chain link fences are see-through, which means you'll be able to tell right away if a child gets into the pool enclosure. This is an important feature because chain-link fences are relatively easy to climb, especially for older children who are more physically capable. While it will work for keeping pets out of your pool, you may want to avoid chain link fencing if you or your neighbors have older kids.
Aluminum
Like chain-link, the advantage of aluminum over traditional wrought-iron fencing is that aluminum will not rust. Aluminum fencing is coated with a powder that deters rust, which means you won't need to apply new coats of paint or worry about the weather. While some aluminum fences are easy to climb, climbing can be discouraged by making use of the finial spears that are commonly added to metal fences as a decorative element. Overall, the sturdiness of aluminum and its resistance to rust make it an ideal material to use for your pool fence.
Vinyl
PVC vinyl is probably the lowest-maintenance of all fencing materials. Vinyl doesn't splinter and never needs to be re-painted. It is generally resistant to the elements. It is important to note, however, that vinyl can expand and crack in extreme heat or cold, which means it isn't suited to all climates. In addition, many homeowners find vinyl less aesthetically pleasing than wood or other natural materials.
Composite
Composite fencing is made from a combination of plastic and wood, and it combines the durability of the former with the strength of the latter. Composite is often compared to vinyl, but composite fences tend to be thicker and longer-lasting than vinyl, as is the case with the composite fencing by FDS distributors. Composite fences are also much more environmentally-friendly, as composite is usually made from about 95 percent recycled materials and is manufactured without the use of any hazardous chemicals. On the whole, composite fencing is an excellent choice for your pool enclosure that comes with no apparent drawbacks.
What material works best for your pool enclosure will ultimately depend on individual factors such as the climate you live in and the age of the children that frequent your home. Vinyl or composite fencing are probably the best overall choices. Both materials are durable and difficult to climb, and they are crucially the most water-resistant of common fencing materials. If aesthetics or environmental impact are important to you, however, you may want to go with composite over vinyl, as the former both looks more natural and is better for the environment.
Image: Pixabay
Comments
comments