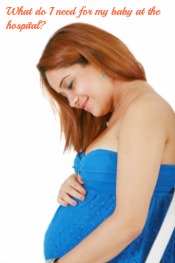 What should I pack for my baby while staying at the hospital?  Depending on the hospital that you are delivering at most of the time the hospital will provide you and your baby with basic necessities.  In fact, when I was pregnant with my first baby I had no idea what I needed to take with me so I was stuffing all of the basic items that I might need into my daughter's diaper bag so that I was prepared to take care of all of her basic needs.  In fact, after I delivered her I immediately knew that I was over-prepared and had way too many things at the hospital.  Remember that everything that you take up to the hospital has to fit in a bag when it is time to go home.  Each time I had my children it seemed as if I went home with a ton of stuff.  With my other two babies I was a bit more prepared and tried to only pack a small amount of stuff because I knew that the hospital has all of the necessities.
Disclosure:  The information in this post are my own opinions and based upon my own experiences.
So what do you really need to take to the hospital for your baby?  The goal is to pack as light as you can or leave the diaper bag in the car so that it is one less bag that you need to deal with while in the hospital.  You can have your spouse bring the only the items that you need into the hospital.  Here is a list of must haves, that I would recommend for a new mom to pack in the baby's hospital bag or diaper bag for the hospital stay.
Comments
comments