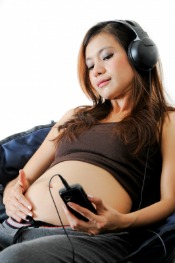 What items do I need to pack in my hospital bag when preparing to have a baby?  Most new moms tend to over pack their own hospital bag and most of the items that they take with them are safely tucked away in their bag and are not used.  Most of the time the hospital will supply your basic supplies such as soap, lotion, sanitary pads, disposable underwear, and shampoo/body wash combo.  I remember not being prepared with my first two babies (I didn't have my hospital bag pre-packed like experts suggest having ready around 36 weeks), I didn't have a hospital bag packed and I had to rely on someone else to go to my house and get me things that I wanted or needed.  I was a bit more prepared with my third baby, after I realized that I was having braxton hicks contractions around 35 weeks and they were happening pretty frequently.  So I packed a few of my items into my baby's diaper bag.  I knew that I only needed a few items and I didn't want to carry a bunch of bags into the hospital.  During those last few weeks, I left my son's diaper bag in the back of the car because I was afraid that I was going to go into labor at any time; however, I ended up making it to my due date.
Disclosure:  All opinions reflected in this post are my own and I compiled a list of based on my own experiences. 
What should a new mom pack in her hospital bag?  Remember that you should pack as lightly as possible because anything you take to the hospital has to come home.  Use this list of items to carefully pack your hospital bag.
Comments
comments