My daughter and her boyfriend will be attending the military ball  in a few weeks and I need to find her  a new formal dress to wear.  I have been procrastinating on taking her shopping for a formal dress because  I am not a huge fan of going to the mall.  I realized  the other day that I am quickly running out of time to find her a dress.  On Friday afternoon, I decided to browse the Internet (my new favorite way to shop for things) and found some cute dresses on JenJenHouse.com.  I quickly noticed that they had a huge selection of dresses that were under $100 dollars.   After, looking at their dresses I decided to show a few of them to my daughter.  I showed her a few that I thought were appropriate and fancy enough to wear to the military ball.  Of course, the ones that I thought were cute, she turned up her nose to them and said "no mom".  She is picky and I was having a  hard time figuring out what style of dress that she was envisioning wearing to the military ball.
I decided to let her browse for dresses and pick out 2 of her favorite dresses.
Dress Number 1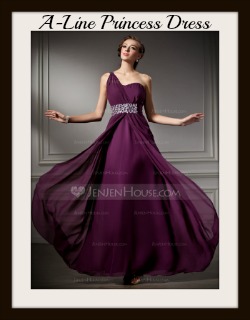 When she found this dress, she instantly fell in love and told me that this one is her favorite. It is an A-Line Princess Dress and it doesn't scream prom to me. It is elegant and I love the color. I am even more impressed with the price tag, when I first saw her looking at this dress I figured it would be over $200 dollars. Right now they are having a great sale and this dress is priced at $138.99.  This dress comes in several other colors including: Red, Burgundy, White, Black, Dark Green, Jade, Pool, Dark Navy, Royal Blue, Fuchsia, and other great colors.
Dress Number 2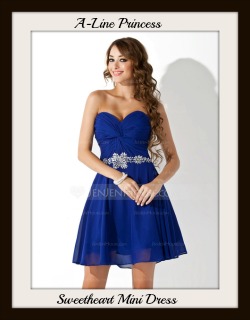 This is my daughter's second favorite dress.  It is an A-Line Princess Mini Dress with a Sweetheart Top.  I love ruffle beading/sequins makes it look formal and elegant.   My only concern with this dress, it is a strapless dress and I would be concerned with it falling off it is didn't fit properly.  Of course, with a simple alteration you could easily add clear straps or even some fancy straps to hold it up if necessary.   I love the dark blue too.  With the custom beading and added touches to this dress, I expected it to cost over $225 dollars.  I was shocked when the discovered that the sale price tag was $106.49.  Even though I love the blue dress, it does come in a wide variety of colors including:  Red, Burgundy, White, Black, Dark Green, Jade, Pool, Dark Navy, Royal Blue, Fuchsia, and other great colors.