Choosing the perfect holiday gifts for friends and family can be a challenge. Whether searching for that trendy piece of jewelry, this year's impossible-to-find bag, or the latest video game release, matching the right gift to the right person can be super stressful and time-consuming.
But what about the precious pups in your life? They deserve the perfect presents too! Here are 5 easy gift ideas from Nylabone to make the holiday as joyful as possible for your furry friend, and as effortless as possible for you—Nylabone products are available wherever your favorite pet products are sold!
1. DuraChew or FlexiChew
Maybe your precious pooch is a champion chewer, leaving ruined shoes and other destroyed belongings in his wake. Not to worry, your furniture legs don't have to suffer anymore! Nylabone's line of chew toys—DuraChew for powerful chewers and FlexiChew for moderate chewers—are guaranteed to satisfy a dog's natural urge to chew and provide a great way to redirect destructive chewing habits. And the best part is that they come in lots of different shapes, sizes, and flavors dogs absolutely love, like chicken, liver, peanut butter, and bacon—yum!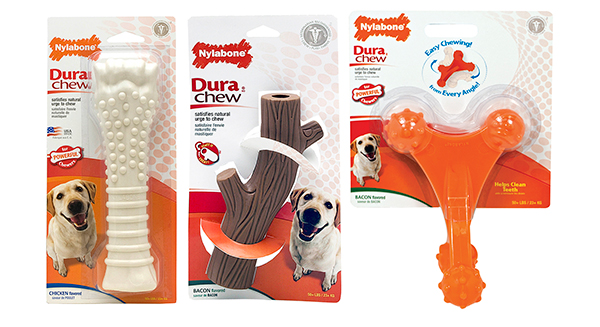 2. Dental Dinosaur
What's not to love about a tough chew toy shaped like a dinosaur that helps keep your dog's teeth clean and breath fresh? Available in fun Brontosaurus, Stegosaurus, and T-Rex shapes, these fabulous stocking stuffers feature raised cleaning action nubs to help clean teeth and control plaque & tartar while keeping your dog endlessly entertained.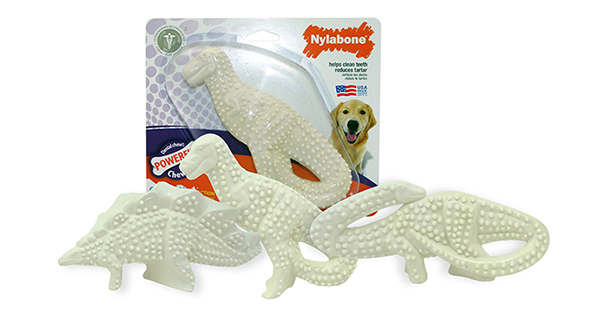 3. Healthy Edibles
We all enjoy more than our share of tasty morsels around the holidays—and we also have a tendency to overindulge our pups. Why not gift them with delicious Healthy Edibles chew treats instead? These natural chews don't have any artificial colors, preservatives or added salt or sugar. So while you're devouring that last piece of Aunt Edith's fruitcake, at least you know your dog will be raising the bar on healthier snacking.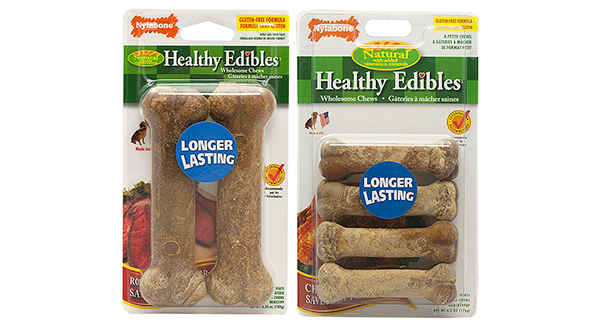 4. Nutri Dent Complete
If you're planning to smooch your pooch under the mistletoe, you'd better make sure that his breath is fresh! Nylabone's handy Nutri Dent Complete edible dental chews are clinically proven better than brushing, with 360-degree cleaning nubs to give your pup two of the greatest gifts of all: clean teeth and fresh breath!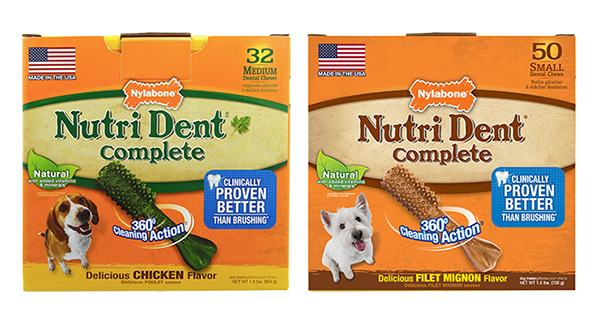 5. Just for Puppies!
Who enjoys the holidays more than children? And who is more child-like than a puppy? Bring out the spirit of the season in your bouncy bundle of furry joy with Nylabone toys made just for puppies. Whether it's holiday bonding with a baby-blue wishbone chew toy or establishing good dental health with a plaque-busting, princess-pink puppy dental chew, Nylabone helps your puppy feel like part of the family. And for teething puppies, rest assured—soft chews in classic shapes like pacifiers and colorful keychains will help your little one develop positive chewing habits while his or her teeth come in.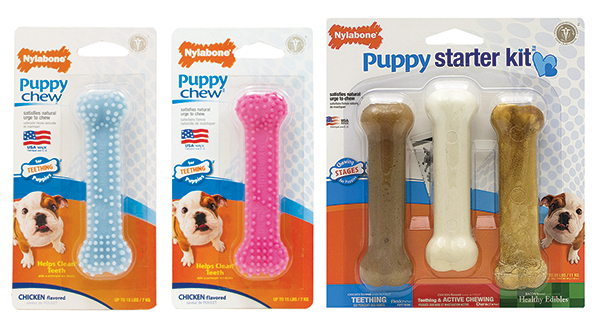 $300 Nylabone Sweepstakes + $2.00 coupon
Enter Nylabone's holiday sweepstakes for a chance to win $300 in dog chews, toys, and treats! Plus get a $2.00 coupon off your next Nylabone purchase. Ten lucky winners will be chosen at random. Sweepstakes ends January 31, 2015.
Save Your Sofa—Give Your Dog a Nylabone for Christmas!