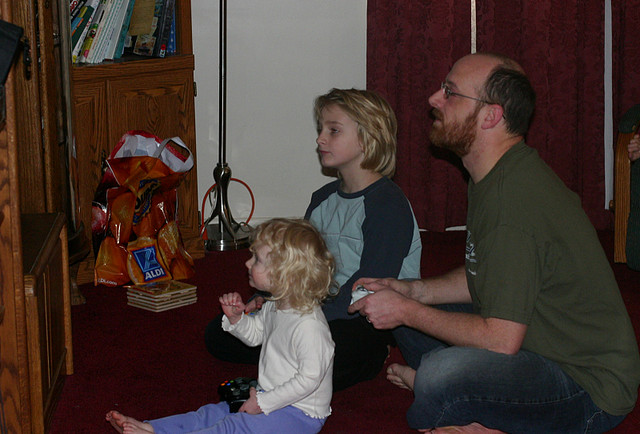 Parents who want to spend more time with the kids should invest in video games for the whole family. The market is packed with entertaining games meant to keep your household engaged for quite a few hours, however it's often challenging to make a choice. Nowadays, it's more difficult than ever for parents to connect with their kids. Daily housework, busy work schedules and advanced technology doesn't let families interact like they used to 10 years ago. Fortunately, there are plenty of incredible video games for families to play together. Here are some recommendations.
Dance Central 3
This innovative music video game for Xbox 360 is exactly what the family needs on a Sunday afternoon. Follow the dance moves tracked by Kinect, and be as accurate as you with your moves to gather points. Available in multiplayer mode, you can team up with your friends and family and battle head-to-head in a series of mini-games, dance battles and performances. There are various difficulty modes available, too, as well as a Party Mode with all sorts of mini-games and random songs that will make the whole experience seem fun and entertaining for the entire household. Buy now on [amazon_link id="B002I0K3Z2″ target="_blank" rel="nofollow"]Amazon[/amazon_link].
Zumba Fitness Rush
Working out has never been more fun. Suitable for mothers and daughters and their girlfriends, Zumba Fitness Rush features 42 music tracks, a wealth of dance styles, arenas and a sizzling choreography. Players will have to move to the beat and follow their instructions to score points. Each instructor guides a choreography, and the dances vary from Latin Pop and Bollywood, to Samba, Merengue and numerous others. Keep an eye on the Progress Tracker to monitor your improvements, have fun while you dance and burn calories all at the same time. There will be prizes available and trophies for the best dancers, so it's time to dress up and have a blast. Buy now on Amazon.
Wipeout 2
If you're familiar with the famous TV show "Whipeout", then this game will conquer the hearts of an entire family. Contestants must get through a series of moving obstacles meant to "wipe them off" by knocking them down. Can you avoid them and get to the finish line? Featuring a number of in-game avatars dressed in funny costumes, "Wipeout 2" can be played on Wii and Xbox. The outrageously funny course designs and hilarious comments will definitely bring the family together. Navigate through ice & snow, foam and other fan-favorite obstacles like Big Balls and Sucker Punch, and be ready to laugh with tears while playing "Wipeout 2". Buy now on  Amazon.
Disney Infinity
This action-adventure sandbox video game makes use of collectible figurines that are synchronized with the game, thus allowing special properties to Pixar and Disney characters. Released for gaming consoles like PS3, Xbox 360, Wii and Nintendo, Disney Infinity uses physical toys to drive the open-world adventure that happens on the gaming consoles. It's an amazing game for families with toddlers. Each playset comes with a self-contained world and an exclusive gameplay based on Disney films (or series) with famous storylines and characters. Some of the playsets are "The Incredibles" "Pirates of the Caribbean" "Toy Story" and numerous others. Buy now on Amazon.
Lego City Undercover
Another amazing sandbox video game for the whole family is 'Lego City Undercover'. Developed for Wii U, the action-adventure game will definitely appeal to both parents and kids. The action takes place in Lego City, and players take control of an undercover police officer known as Chase McCain. The chase for hunting criminals begins; there are multiple game modes available, as well as a wealth of in-game features: cars of all sorts and types, extra abilities, power-ups and more. Buy now on Amazon.
This is the guest post by Daniel Lewis and Airplane Games 365!
Photo credit: Flicker via Creative Commons