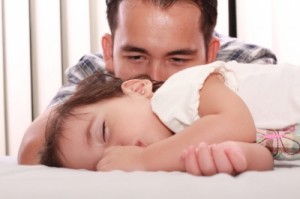 Many parents wonder when is the perfect time to transition their baby from their crib into a toddler bed or regular bed.  As a mom, I can't give you a perfect answer because each child is different and is ready to move into a regular bed at different ages.  You know your child best and can gauge when you think they may be ready to transition into a bigger bed.  Most children will transition to a bigger bed around 18 months to three and a half years old.
Disclosure:  The opinions reflected in this post are my own and may differ from your own opinions.
If Your Child is a Monkey and You are Worried About their Safety, It May Be Time to Make the Transition to A Big Bed
I remember that my oldest son would constantly crawl out of his crib anytime that he would wake up and I was afraid that my son was going to hurt himself.  I no longer felt safe leaving him in the crib and felt that it was time to transfer him to a big bed.  Before you decide to make the switch to a toddler bed, make sure that the crib mattress is on its lowest setting, which can make it more difficult to climb out of when the rails are up.  However, if your child is a monkey and can climb out of his or her crib when it is on the lowest possible setting, you may want to consider moving your child to a toddler bed for his or her safety.
Comments
comments