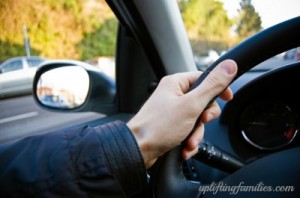 In order to take your baby home from the hospital, you have to have a car seat.  A car seat will keep your baby safe and secure while in the car and protect them from injuries if you are involved in a car accident. There are several different types of car seats on the market and they all have different purposes, depending on the size of your baby.
 Disclosure:  This post is for informational purposes only.  If you have any problems installing your baby's car seat, please visit the local fire department or police station for additional help. This post may contain affiliate links.
Infant Car Seats
Infant car seats are designed specifically for newborns and younger babies.  An infant car seat reclines more than a traditional convertible car seat.  They make carrying a baby in and out of the car easier, especially, if you baby happened to fall asleep in the car.  An infant car seat can accommodate a baby as small as 5 lbs.  A tiny baby can't hold its head up or support their neck and the infant carrier supports their neck.  The infant carrier will hold a baby who weighs up to 22 lbs.  Most babies will be ready for a bigger car seat around 10 months to a year old, depending on their height and weight.  Most of the car seats come with a removable head rest and have a 5 point harness which helps keep your child secure.  The car seat comes with a built in level so that you can ensure that the seat is level for maximum safety.  You can also purchase an additional base for your car seat so that you don't have to move the base back and forth between cars.
I remember that my son started getting very heavy towards the end, making it more difficult to get him in and out of the car or carry him around in his infant seat.   I loved having the ability to tote him around while he was sleeping, especially when he was younger.