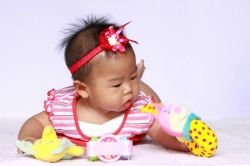 Are you planning on returning to work after your maternity leave is over?  If so, you need to begin thinking about where you want your child to go to  daycare at while you are at work.  In fact, you need to begin your researching your options roughly five or six months ahead of time to ensure that you will have a secure spot for your child.  Many providers generally have a waiting list, especially, at the more popular daycare centers and reputable home daycare centers.  Your newborn can't attend any type of daycare center until he or she is 6 weeks or older.
Disclosure:  This post is for informational purposes only.  The opinions in this post are my own and is based upon my own experiences with finding a suitable daycare provider that I trust to watch my children.
Do Your Research Carefully Before Deciding on the Type of Daycare to Use?
It is best to do your research before deciding on the daycare center that your child is going to spend a majority of their time at, while you are at work.  A daycare center often has set hours that they are open and most will charge you if you are late picking up your child.  I personally use a daycare center for my child because I never have to worry about the teacher being sick.  A home daycare may have set hours but they might be a bit more flexible with pick up times if you talk to the director in advance.  Usually home daycare centers are a bit cheaper because they can set their own rates.  However, both types of daycare centers are licensed by the state and must follow their specific rules.