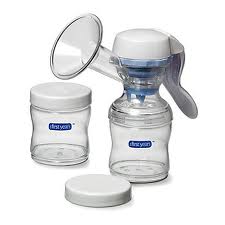 The First Years Manual breast pump offers mother's the ability to pump breast milk on the go.  A manual breast pump doesn't require batteries or electricity.  Since the pump doesn't rely on batteries or electricity it gives mom's the ability to pump anywhere.  It is light-weight and it easily fits in your purse, tote bag, or diaper bag.All the parts that come in contact with breast milk are BPA free.
Like this breast pump? Click on the photo for more information.
Disclosure:  The opinions reflected in this post are my own.  I didn't receive any compensation for this post.
Flexible Positioning
First years manual breast pump features an adjustable, swivel head.  The adjustable head allows you the ability to position the breast pump so that it is comfortable for you while you are pumping.  You can even adjust the position while you are pumping, so that you can change hands if necessary.
Concerned With Privacy
If you are concerned with privacy, then this manual pump is a great choice.  You can easily put this breast pump in your purse or a tote bag, so that no one even knows you have it.  It is also quiet and doesn't make a bunch of noise while in use, unlike an electric breast pump.  This allows you the ability to pump milk discreetly.
Gives You Added Control
A manual breast pump allows you to be in complete control of the amount of suction and speed.  The suction and speed of the breast pump, depends on the amount of pressure that you apply to the pump handle.  You easily vary both the speed and amount of suction by adjusting the amount of pressure.
What is included with your breast pump:
1 – Manual Breast Pump
2 – 5oz Storage Bottles
2 – Sealing Discs
2 – Valves
Instruction Manual
What is your favorite feature?