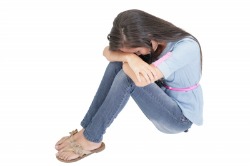 This morning I was watching the news while I was eating my breakfast and caught the tale end of a  news story about teen suicide.  This isn't the first news story that I have heard on the news about teens trying to commit suicide or actually following through with it.  In fact, teen suicide is on the rise according the Centers of Disease Control.  Teen suicide can be prevented if parents actually knew what their teenager is doing and learned the warning signs.
Disclosure:  This post is for informational purposes only and should NEVER be substituted for getting your teenager a professional mental health evaluation to determine if they are at risk for committing suicide.  If you feel your teenager is in immediate danger, please call 911 or take them to the nearest ER or Mental Health hospital.
Teenage Suicide Statistics
According to the New York Daily News Paper, 1 in 6 teenagers have considered committing suicide as a way to deal with their problems and 1 in 12 teenagers have actually attempted to commit suicide.  As a parent of a tween and teenager, I wanted to be aware of the warning signs so that I can intervene if my children begin showing the signs and symptoms that they are contemplating committing suicide.  Today's teenagers are experiencing far more pressure than most teenagers experienced a few years ago.  Not only are teenagers going through physical, emotional, and mental changes but they are having to adapt to their changing roles.  Teens are often are faced with new responsibilities and when they enter high school they begin to feel an overwhelming pressure that they must succeed and do well in school.
Teenagers Are Expected to Take on More Responsibilities and Their Roles Often Change When They Enter High School
As your teen, begins to accept their new roles they may begin to experience problems in school or with their friends.  It is important that you stay involved in your teenager's life, by doing so you are more likely to know when your child is feeling down and out or is having a hard time at school or with their friends.  If your teen is showing the signs and symptoms that they are contemplating committing suicide you can quickly intervene and get your child help immediately.  However, parents who don't take an active role in their child's life may or may not recognize the signs and symptoms of depression or suicide until it is too late.
When to Seek Help From a Professional
If you notice that your teenager is experiencing the signs and symptoms, it is important that you take the signs and symptoms seriously, even if they don't want to open up and discuss what is going on.  If they won't talk about their problems, seek the help of a mental health professional immediately they are specifically trained and can often times get your teen to open up and talk.
Powered by

Sidelines