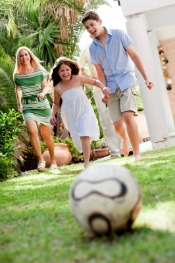 Do crime rates decrease during the summertime? Most people would assume that crime rates would decrease during the summer since families are more active, plan vacations, and aren't always at home. You might be surprised but crime rates actually tend to increase as the temperature outside goes up. There is some speculation that crime sprees are more likely to occur during the summer time because there are more older children who are out of school and left unattended. Crimes start increasing as the summer drags on and teens or young adults get bored and don't have anything to do. Often times groups of teens or young adults get caught up in the wrong crowd and take advantage of opportunities that are in front of them. It is also the time of year when families often let their guard down and don't protect their home the way they should.
Disclosure: This post is for informational purposes only. Any opinions reflected in this post are my own and may differ from your opinions.
Is Your Home Easy Target For Thieves
It is easy to determine if your home could be a potential easy target for thieves. As you are inspecting your home and find deficiencies it is important that you take the necessary precautions to make your home more secure, including adding a security system and/or security cameras on you home. During the summer time you are more likely to spend more time outside and you are more likely to leave your garage door open for extended periods of time, especially, if you are doing yard work or having children that enjoy playing outside. An open garage is inviting to thieves and makes your home an easy target. An open garage can lead to theft of items that are in your garage and even possibly allowing thieves entry into your home with very little effort. You would be surprised at how much a thief can take off with in only a few minutes.
What Can I Do To Protect My Family from Being Victimized?
Common sense goes a long way when it comes to protecting your family from becoming victimized by vandals or thieves. Having good and secure lock system is very important, adding a reliable security camera can help keep your home safe and secure. In fact, most insurance companies will even offer you discounts on your homeowners insurance for protecting your home. However, for a security system or cameras to work, you have to actually turn them on and use them.