I found out that my sister is expecting her first baby later this year. I am excited for her and can't wait to hold her baby. I get baby fever from time to time but I am done with that chapter in my life. So when I found out, I was super happy for her because I know that I will be able to spoil her baby too! In honor of her first baby, I wanted to share some of my personal favorite accessories that I think every mom needs on her baby registry.
Disclosure: I received one of the mentioned products in order to facilitate this post. All opinions are 100% my own. This post may contain affiliate links.
Pacifiers
I can't rave enough about having pacifiers on hand for your new baby. I purchased several different types of pacifiers for all three of my own children. I didn't want them to suck their thumbs especially since your baby is already used to sucking its thumb in the womb.  Most babies will eventually find their thumb once they are born unless you provide an alternative for them.
My daughter ended up finding her thumb when I moved from Texas to North Carolina and there was no turning back. I continued to offer her a pacifier but I didn't have very much luck. I wasn't thrilled. Just remember that you can't take away a child's thumb when it comes time to wean them from the pacifier. My daughter was around 7 or 8 years old before she finally stopped sucking her thumb despite several attempts to get her to stop.
Most experts recommend waiting to introduce a pacifier to a newborn especially if you are planning on breastfeeding. However, I introduced the pacifier to my baby immediately and I had no problems with breastfeeding. Some babies do get nipple confusion, which can be frustrating for both mother and baby. I always tell parents to do what you think is best for you and your baby.
Pacifier Clips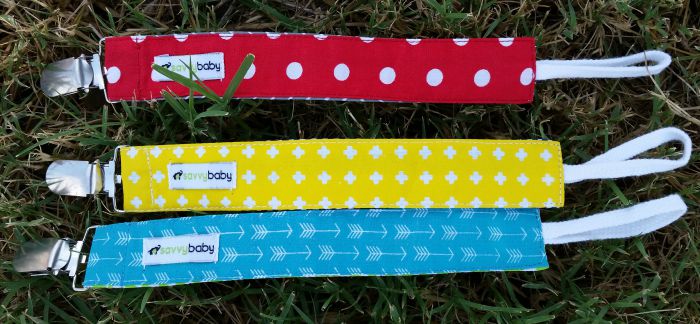 I loved using pacifier clips on my child's pacifier when they were several months old. You will learn pretty quickly that your child will enjoy playing a game with their pacifier and toys. This game usually starts around 3 or 4 months old and continues until they are old enough to retrieve their own pacifier or toys. The pacifier clips will help keep your child's pacifier off of the floor.
I received 3 super cute pacifier clips from Savvybaby. They have three different sets that you can purchase: girls, boys, and unisex. I received the unisex set because at the time, I didn't know the gender of my sister's baby. Plus, I loved the bright colors too. You can even use them on teething rings, stuffed animals, and bibs.
Burp Rags
I loved having a burp rags handy for cleaning up spit up, protecting my shirt, or wiping baby drool. They have gotten so cute over the last several years too. I always had a burp rag near my baby and kept an extra one in the diaper bag at all times.
Bibs
Bibs are also great for catching baby drool. They also will come in handy when your child starts eating solid foods around 6 months of age. You will want to purchase around 6 or more bibs by the time your child is 6 months old. Once your child starts eating solids every meal, you will need to wash their bibs frequently.
Portable Diaper Changing Pad
This was probably one of my favorite accessories that I kept in my diaper bag. It made changing on the go easier. I could put a small thing of baby wipes, several diapers, and rash cream tucked inside of the changing pad. I could grab this out of the diaper bag. Lay the portable changing pad on those gross public changing tables. It protected my baby from those icky germs. Plus, you could even lay it down in the car or on the ground if needed.
These are my top five must have baby accessories. I highly recommend that new mom's add these items to their baby registry. I hope that you enjoy your new baby!
Photo Credit: Pixabay

What is your favorite baby accessory?
If you find this article helpful and useful, please share it with your family and friends. Sharing helps Uplifting Families grow. Thank you for visiting.
Comments
comments