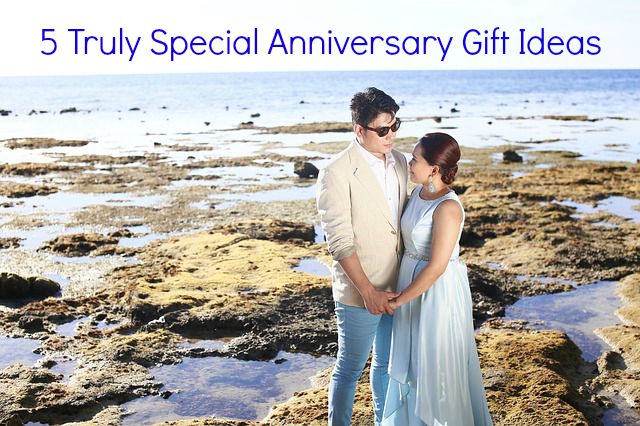 Inexpensive or extravagant, do-it-yourself or store-bought, it's the thought that counts when it comes to gift giving. But if you want to make your anniversary extra special, make sure you choose one that comes from the heart, meaning non-generic. By selecting something unique, you're sure to win brownie points with your sweetheart.
Maybe you've gone the dinner and movie route one too many times and want to think of something new to surprise your loved one with, especially for a date so important. Here are a few to get the creative juices flowing.
Date Jar
Decorate a mason jar (buying them in bulk is always a good option because they're so versatile!) with a pretty ribbon or use a marker to pen your anniversary date. Place rolled up pieces of paper inside that list different ideas for dates throughout the year. They can be free, like taking a walk around the neighborhood—with no phones—or a night out to a trendy, new restaurant for a romantic dinner for two. Think of things both of you enjoy and combine them to plan out dates ready-made for the two of you.
Pack a Picnic
Time together is usually what couples crave since lives can quickly become full of other obligations. Taking an afternoon or evening to sit together in the park, at a beach or other special, quiet space is the perfect way to celebrate your marriage. Create a picnic basket that is filled with your favorite foods. It can be takeout from your favorite restaurant. Or, a cheese plate with chocolate-covered strawberries for dessert. Even if it's PB&Js and Cheetos, what makes it special is enjoying it in a special way. Don't forget the champagne and plastic cups to have a cheers to your anniversary.
Make it Personalized
Everything is made more special when it has a personal touch. Pick out a watch and have a special quote engraved on the back. Select cuff links with his initials or his favorite sports team. Choose your favorite bottle of wine and create a personalized label through www.etchingexpressions.com. You can add a love note, your anniversary date, or an inside joke between the two of you.
Another winning personalized item would be a pair of custom couple bobbleheads. These figures are surprisingly affordable and very flexible. You may ask the manufacturer to apply all specifications you have in mind such as pose, accessories, costume color and more.
Explore your city and plan a date that celebrates the place where the two of you have chosen to build your home. It's fun to be a tourist in your own city and discover things that you may not have previously known it had to offer. Pick a local bed and breakfast or reserve the honeymoon suite at a fancy hotel. Make it special and filled with memories of your wedding and your years spent together.
Plan a Vacation
Take it one step further than the staycation and plan a vacation to a destination you've both been pining after. Don't let your honeymoon be the only big trip you go on. Maybe it's not in the budget to go big every year, but for the milestone anniversaries, take it upon yourself to splurge a little. Plan a place you've been wanting to go and enjoy the anticipation as trip time nears.
Switch up your gift ideas and stray from the standard card. Craft a handwritten note, a poem or a favorite love quote. Have a movie marathon with popcorn and candy snuggled up in your own living room. Bake heart-shaped cookies or visit the place you first met, fell in love, or got engaged. Think of all the special memories you've shared over the years and pick a few moments to relive. Taking time to plan something special helps keep a relationship lively and romance exciting.
Anniversaries should be celebrated. Trying to outdo your gift giving year after year can seem daunting, but it can be fun when you put some creativity into it and watch your significant other light up when they receive it. Still not sure what you want to do? An easy way to remember the day is to look through your wedding photos while reminiscing about the happy day. Share stories, memories, jokes and laughs and look forward to many more years to come! Don't put too much pressure on it. Just acknowledge the day for what it is, a reflection of your friendship, love and devotion to each other. Doesn't get much more special than that.
Photo Credit: Pixabay
What is your favorite anniversary date idea?
If you find this article helpful and useful, please share it with your family and friends. Sharing helps Uplifting Families grow. Thank you for visiting.
Comments
comments