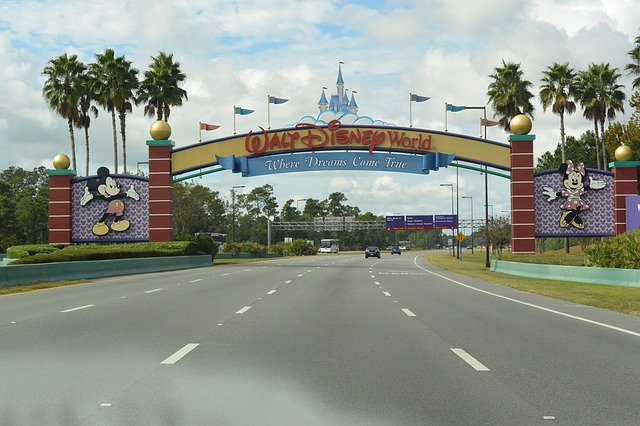 Are you planning on visiting Orlando, Florida this summer? We went to Orlando a few years ago and I instantly fell in love. There was so many things to do for the entire family from the popular theme parks, going to the beach, fishing, shopping, and so much more. It seems like yesterday that we were busy planning our vacation and there were so many choices/options that it was a bit overwhelming. Today, I wanted to share with you some tips on how to plan your worry free family vacation in Orlando, Florida.
Find a Theme Park Package
If you are planning on visiting any of the theme parks in the area, we found that it was best to buy a package deal because it was cheaper than purchasing individual days at each park. For example, we purchased a 5 day pass and we could use the tickets at any park. Once you use the first days ticket, you have to use the rest of them within a certain time frame. Also, consider booking all of your travel arrangements at once, including hotel, airfare, park tickets, and rental car, etc.
If you are looking for themed resorts in Orlando that offer a memorable stay experience, go now and explore some very interesting options to pick from.
Don't Hesitate to Use a Travel Agency
You can purchase Orlando park tickets for the family either from the park directly or you can use a travel agent. Sometimes the travel agencies can book entire vacation packages cheaper than if you were to individually purchase everything separately. The travel agent will go out and search for all the deals available even after you book your vacation. If they find a cheaper deal, they will let you know and depending on the terms they will even refund you the difference.
Staying On or Off Property
If you are planning on visiting Disney, many people often debate on whether they should stay on or off property. The greatest benefit of staying on property is convenience. There are a wide variety of properties on site for every budget and some of the properties even offer additional perks. Plus, you don't have to deal with transportation costs unless you go off site seeing. Even if you fly into Orlando airport, you can use the shuttle service to get to your hotel so that you don't have to rent a car. They have buses, monorails, and boats that give you access to all the parks and Downtown Disney. They do operate on a schedule so you do have to pay attention to that.
If you do decided to stay off property, you will have to pay to park unless you rely on the hotel's shuttle services to get back and forth the parks. When we went to Disney we ended up staying with a family friend and we drove back and forth to the parks every single day. When looking at hotel options off property, you will need to factor in these additional costs:
parking at each theme park
gas
wear and tear on your car (if you drove your personal vehicle)
toll roads
traffic
Should I Purchase the Dining Plan?
Since we stayed off property when we went to Disney, we didn't purchase the meal plan. Eating at the park was fairly expensive. We always at breakfast right outside the park at McDonalds just shortly before the park opened. Then depending on our day, we would eat one or two meals at the park. If you are staying on property, you can even go back to your room to eat. Here are a few ways to save money when eating food:
buy kid's meals for your entire family
split entrees
ask for water(it is free) or take a water bottle to refill at any soda machine
look for travel deals with free meal plan (just make sure that you read the fine print before booking)
Plan Ahead for the Weather
Florida is known for its afternoon showers and for the most part they don't last very long. When we were in the parks, we always found indoor activities to do when the showers would roll through. Most of the parks had plenty of shows or other types of indoor activities for you to enjoy. The rollers coasters and some of the rides do have to shut down for rain. It is wise to bring a poncho with you if possible. You don't want to buy them inside the park (we didn't take ponchos or an umbrella).
Purchase Souvenirs Off Site
If you want to purchase souvenirs, I highly recommend that you buy them off site to avoid the huge mark ups inside of the parks. There are a bunch of stores just outside of the parks that offer the same exact toys and merchandise that are inside of the parks for a fraction of the cost.
Don't Forget Travel Insurance
I highly recommend that you purchase travel insurance when you book your family vacation. You never know if your trip will rained out due to a hurricane, you experience travel delays, last minute cancellations, or if someone gets sick or hurt during your trip. The travel insurance usually doesn't cost an arm and a leg and covers the what ifs.
Take the guess work out of planning your Orlando Family vacation with these travel tips. I hope that you found this article helpful and that you enjoy your family vacation.
Photo Credit: Pixabay
Have you been to Orlando, Florida? If so, where did you go? Do you have any additional tips to share?
If you find this article helpful and useful, please share it with your family and friends. Sharing helps Uplifting Families grow. Thank you for visiting.
Comments
comments