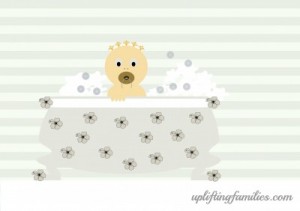 Bathing an infant isn't an easy task and can be an overwhelming experience.  Once a baby is wet and then you add soap to the equation, an infant becomes very slippery and are hard to hang on to.  Luckily, when you baby is smaller they don't have to be bathed every day.  In fact, your baby probably won't like bath time until they are a bit older.  Keep in mind that even though your tiny newborn can't splash you, be prepared to get wet.
Disclosure:  The opinions reflected in this post are my own and may differ from your own opinions. This post may contain affiliate links.
Make Bath Time More Enjoyable for Your Baby
Be Prepared – Before you undress your baby and run the bath water.  Make sure that you have everything that you need to give your baby a bath first.  Having everything ready, will make bath time go so much smoother.  It is not necessary to have a baby bathtub for your newborn, in fact many parents will bath their baby in the kitchen sick.  A baby bathtub is designed specifically for a babies growing needs. To make bath time more enjoyable have the following items handy: baby soap, shampoo, lotion, hooded towel, baby bath tub, thermometer for checking water, diaper, and clothes.  Once you have everything together you can run your baby's bath water, make sure that you leave your baby in a secure spot in order to avoid any accidents or injuries.