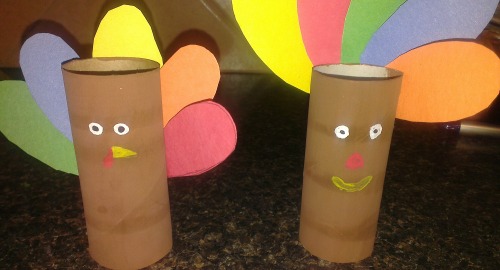 Do you have some extra empty toilet paper rolls around your house?  Do you have a toddler or a young child that enjoys making crafts?  Thanksgiving is a few weeks away and I wanted my youngest son to help me make some turkey's for our dining room table.  I gathered up a few of my craft supplies from my school supply box and laid out some newspaper on our dining room table.  You will need to following supplies to make your turkey's:
Toilet Paper Rolls
Several Bright Colors of Construction Paper
Washable Paint
Paintbrushes
Glue
Cup of Water
Paper Towel
Newspaper
Foam or Paper Plate – For Mixing Paint as Necessary
Take a toilet paper roll and remove all of the paper residue from the cardboard.  After all the toilet paper has been removed, paint the toilet paper roll brown.  I used two coats of paint and allowed it to dry over night before we completed our turkey.
While you are waiting on the paint to dry, you can cut out the feathers for your turkey.  Cut out 4 to 5 different color feathers using construction paper.  Fan the feathers out and glue them together.
Once the toilet paper roll is dry, you can add your turkey's eyes, nose, and mouth using paint and a bit of creativity.  Next glue the feathers onto the back of your turkey.
The DIY Toilet paper roll turkey's would make a perfect table decoration or a cute homemade gift idea.
What are you looking forward to at Thanksgiving?