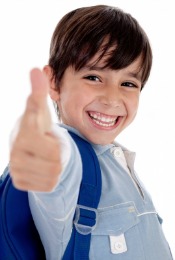 I can't believe that summer is almost over with and my kids will be heading back to school in less than a month.  It seems like this summer has flown by.  I have enjoyed having my kids at home with me so that I could spend some extra time with them.  A few weeks ago, I noticed that the stores were already stocking the aisles with school supplies.  It seems like yesterday that the kids just got out of school for summer but in reality the summer is half over.  My son saw the school supplies when we were at the store on Saturday and was excited already.  As a mom, I am not quite ready to buy my kids supplies I am not quite ready for summer to be over with. Once, your child reaches middle school you are lucky if your school as a required school list of supplies for your child.  In fact, most of the time each teacher sends home their own list of supplies on the first day of school.  So I usually stock up on the basic items and catch the few items that I missed when I am at the store again.
Disclosure:  The opinions reflected in this post are my own and based upon my  own experiences.  
I came home from the store and told my husband that my son was already ready to buy his school supplies.  He thought about it for a minute and couldn't figure out why my son was so excited to buy school supplies.  As we were talking, it brought back our own memories of back to school shopping.  My husband said that he enjoyed back to school shopping and couldn't wait to go to the store to get his new supplies, clothes, and shoes.  I told him that the beginning of the school year meant new things and as a child, I was always excited for a new beginning and a new school year.  Going back to school means a new teacher, new material to learn, time with my friends, and a new opportunity.
Comments
comments