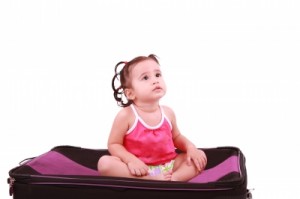 A diaper bag is an absolute must have when you have a baby.  In fact, there were several times when my children were very young that their diaper bag also became my purse.  I would toss my wallet and a few essential items into the diaper bag so that I would only have to carry one bag when I was out and about with my baby.  I found that carrying a purse and a diaper bag was way too much to handle with a baby, stroller, blanket, and a diaper bag.  Diaper bags come in a wide variety of shapes, sizes, and colors, so most mom's can find one that they are comfortable carrying around and could double as a purse too.
Disclosure:  All opinions reflected in this post are my own and may differ from your own. 
Many mom's often wonder what they should carry in their diaper bag, especially, first time mom's.  I remember packing these items in my daughter's diaper bag when I was pregnant with her(she was my first child).  I had a general idea on what items that I would need to carry in the diaper bag for my baby because my younger sisters were born a few year earlier and my mom always seemed to have it together.