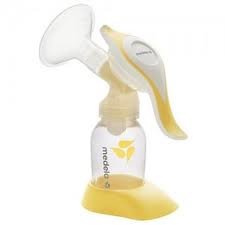 Learn how to properly assemble and use your
Medela Harmony breast pump
.  This pump uses Medela's patented Two-Phase Technology.  It was developed to mimic the sucking motions that a baby makes while breastfeeding.
Disclosure:  This post is form informational purposes only.  This post may contain affiliate links.
Identifying the Parts of a Medela Harmony
Membrane – The small white flap.  It is rubbery and has bumps on it.  It will attached to the valve.
Valve – The valve is yellow and it is a small piece of plastic.  The membrane attaches to the side.  The valve connects to the connector.  Note: When washing your breast pump, make sure that you take this piece off the connector.  Milk often times will get trapped inside the valve.
Connector – The connector is a clear piece of plastic.  The valve attaches to the bottom of the connector and the breast shield is inserted into the other end.
Breast Shield – The breast shield is the funnel shaped piece.  The breast shield attaches to the top of the connector piece.
Stem – It is a beige or yellow piece of plastic, this piece is inserted into the diaphragm.
Diaphragm – It is a clear, flexible plastic piece.  This piece allows the handle to move up and down.  Insert the stem into the diaphragm.
Handle – This is the long odd, shaped plastic piece.  Turn the handle over and put the flat side of the stem into the handle.  Firm attached the diaphragm to the handle.  Make sure that it doesn't easily come off.  Attach the handle to the small hole on the top of the connector piece.  Push the stem into the hole.
Storage Container – The storage container attached to the connector.  Use caution when attaching the bottle to the connector, you don't want to accidentally tear the membrane.  Attach the storage container to the connector piece.
Base– The base is a yellow, plastic piece that holds the bottle.  You can use the base to place the bottle into when not in use.  Also, you can use it to hold expressed breast milk if you get interpreted while pumping.  The base will prevent the bottle from tipping over and spilling your milk.
Comments
comments